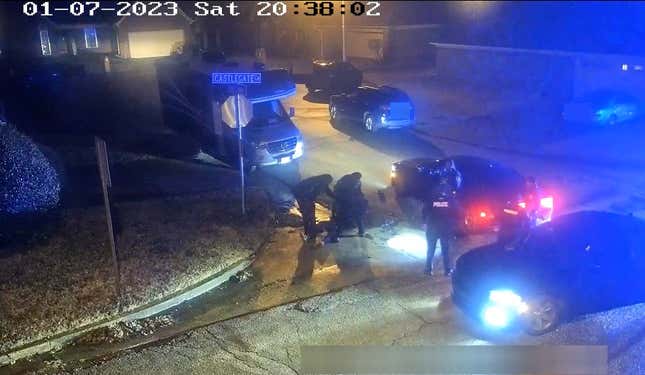 After a few weeks of anxiously waiting, the Memphis Police Department released the footage of the Tyre Nichols traffic stop to the public. Given the graphic description of Nichols being beaten, Tased and pepper-sprayed during the traffic stop, the contents of the video prove what many had speculated already happened: those cops abused their use of force beyond measure.

Small Town Horror: The Story Of A Sheriff's Deputy Who Wielded A Lasso On A Suspect
Police Chief Cerelyn CJ Davis, attorney Benjamin Crump and FBI Director Chris Wray shared an appalled reactions upon viewing the footage privately. Images of Nichols in the hospital following the traffic stop rendered him nearly unrecognizable compared to prior photos shared by the family. RowVaughn Wells, Nichols' mother, claimed her son was already dead by the time they got to the hospital to see him and that his neck was broken.
Two instances were caught on camera: the moment he was pulled over and allegedly fled the police and the second alleged attempt to flee when he encountered a few more officers. Nichols' family insist his attempt to run wasn't an indication of guilt but rather of fear as he tried to reach home, 80 yards away.

The officers seem to be joking about how they grabbed him before he got away.
Read the description of the footage from NBC News:
Officers deployed a Taser and pepper spray, much of which ended up on themselves during the melee, footage released by Memphis officials showed. One officer appeared to be in pain as a colleague poured water on his eyes multiple times.

"I can't see jack s—-," the officer said.

Another officer said he was nearly hit with pepper spray and appeared to threaten revenge on Nichols. "You sprayed me too but luckily it didn't get into my eyes, just on my eye brow," he said. "I hope I stomp his ass."
No parent should have to watch their child be essentially jumped and nearly killed on camera - no matter the alleged offense. What's even more frustrating is the lack of clarity about whether the traffic stop was warranted in the first place.
Those who choose to watch, be warned. Our thoughts are with the family at this time.
Click this link to watch the Tyre Nichols body camera footage from the City of Memphis.