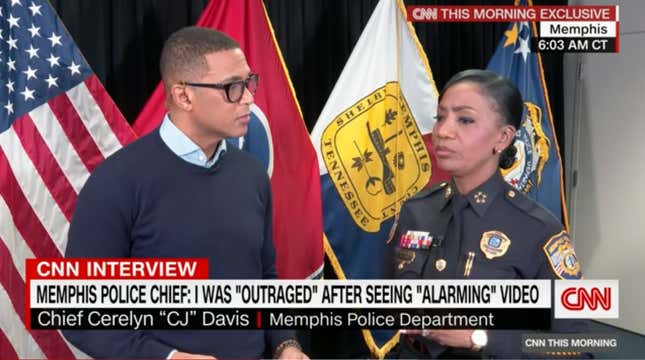 Updated as of 1/27/2023 at 9:15 a.m. ET

Memphis Police Chief Cerelyn CJ Davis shared her reaction to the video of her five former employees allegedly beating Tyre Nichols. The ex-cops face murder charges in the incident along with a multitude of other counts -all of which Davis told CNN This Morning she wasn't surprised to see.
In an interview with CNN's Don Lemon, Chief Davis said while she expected serious charges to come against the officers, these were the most severe she's seen in her career. The incident as a whole nearly blindsided her when she received a "strange summary" of the traffic stop.
"- He had injuries that just — I just didn't understand. It was incomprehensible to me. We came in the office and decided to take a look that Sunday morning, and it was alarming," she told Lemon.
When Davis saw the video of the incident, she said she was outraged and said she didn't witness anything of that nature in her whole career. Her remarks on what the public can expect from the footage echoed much of what attorney Benjamin Crump said following his viewing. It's going to look horrible.
"You're going to see acts that defy humanity. You're going to see a disregard for life. Duty of care that we're all sworn to. And a level of physical interaction that is above and beyond what is required in law enforcement," said Davis.
She also said from the footage, the department hasn't even been able to identify the "reckless driving" Nichols was pulled over for in the first place. The more details we learn of this stop, the worse it sounds.
The Former Memphis Cops' Murder Charges
Desmond Mills, Justin Smith, Emmitt Martin, Teddarius Bean and Demetrius Haley were previously fired from the Memphis Police Department after an internal investigation, according to Fox 13 Memphis. The department found them guilty of violating multiple policies in the Nichols traffic stop but now they must prove their innocence against criminal charges. Police Chief CJ Davis said in a statement Wednesday night that the officers "were found to be directly responsible for the physical abuse of Mr. Nichols" and announced a review into the SCORPION Unit - a fairly new addition to the MPD to combat crime.
According to court documents, their indictment includes:
Two counts of official misconduct
One count of official oppression
One count of second-degree murder
One count of aggravated assault
Two counts of aggravated kidnapping
Shelby County District Attorney Steve Mulroy said if Nichols was legally detained, it became unlawful at some point which gave probable cause for the kidnapping charge. According to the Commercial Appeal, though each officer is facing the same set of charges, their bonds were placed at different amounts by a $100,000 difference.
The release of the body camera footage will ultimately be up to the city and there may be redactions, said Mulroy.
"Simply put, this shouldn't have happened," said David Rausch, director of the Tennessee Bureau of Investigation in reaction to viewing the footage. "I've been policing for more than 30 years. I've devoted my life to this profession. I'm shocked, I'm sickened by what I saw and what we learned through our investigation."
Read more about their arrest from Fox 13:

Shelby County District Attorney Steve Mulroy will be holding a press conference at 201 Poplar at 2 p.m. to provide an update in the Tyre Nichols investigation. FOX13 will carry that interview live on-air and online.

In an interview on FOX13′s Good Morning Memphis on January 24, Mulroy said "I can't stress this enough. We are moving as quickly as we can on this case. We understand that it's in the public interest for us to get to the next stage of this case as soon as possible. Just stay tuned and be patient,"
So far Mr. Martin III and Mills have retained lawyers to represent them. Two of the five had planned to turn themselves in but it's unclear who they are, the report says. They could also face a federal suit if the Department of Justice decides to file a complaint related to the incident.
Is it me or did their arrest seem to happen a little quicker than usual?