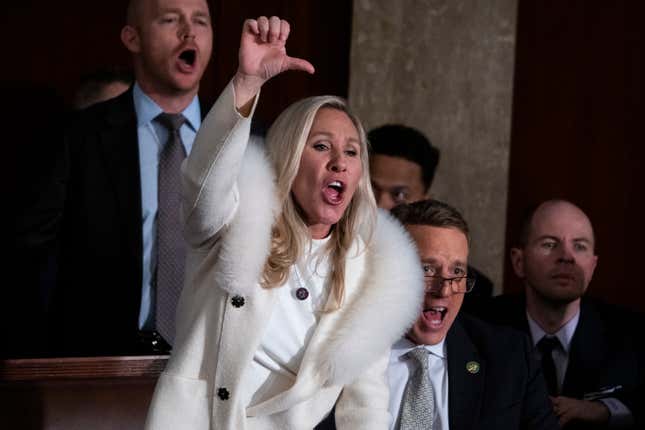 Last night's State of the Union was one for the books, but not for the reasons one might think. Though President Biden tried to express an agenda of unity with the GOP, it predictably fell on deaf ears. "To my Republican friends, if we could work together in the last Congress, there is no reason we can't work together and find consensus on important things in this Congress as well," he stated.
Small Town Horror: The Story of Fred Hampton's Premeditated Murder
"The people sent us a clear message. Fighting for the sake of fighting, power for the sake of power, conflict for the sake of conflict gets us nowhere." However, as he tried to explain his accomplishments during his time in office and issues he hopes to address—ranging from inflation to the fentanyl epidemic—Republicans weren't having it. Instead of listening, they decided to cause a whole scene.
Here are the most outrageous Karen moments from the State of the Union, courtesy of out-of-pocket Republicans:
Marjorie Taylor Greene refused to STFU.
Marjorie Taylor Greene remains undefeated as the biggest Karen to have ever Karened. She's known for spreading hateful rhetoric against people of color as well as the LGBTQ community. However, Greene is also downright impudent. As Biden explained how proposed GOP legislation could lead to cuts to Social Security and Medicare, she rudely screamed out "Liar!" Sadly, other Republicans followed her lead. Greene later screamed out ""China's spying on us!" and "Secure the border!"
House Speaker Kevin McCarthy tried, but failed, to tame the unruly Republicans who heckled Biden.
As Marjorie Taylor Greene led the brigade of screams directed at President Biden from the GOP, House Speaker Kevin McCarthy (R-Calif.) tried to no avail to stop them. Republicans frequently state that they are all about decorum and class, their behavior at the State of the Union represented everything but that.
During an interview with Fox News after the address, McCarthy doubled down on his passiveness. "Well, the president was trying to goad the members, and the members are passionate about it," he said.
Mitt Romney called George Santos a "sick puppy" for his lies.
A clip of Republican Senator Mitt Romney giving a piece of his mind to Rep. George Santos (R-N.Y) has been circulating around the internet. Many speculated that he was calling Santos out for his deceitful ways—and they were absolutely correct. After the State of the Union, Romney told reporters that he did, in fact, tell Santos that he doesn't belong in Congress.
"I didn't expect that [Santos would] be standing there [in an aisle seat] trying to shake hands with every senator and the president of the United States...If he had any shame at all, he wouldn't be there," Romney said. "He should be sitting in the back row and staying quiet instead of parading in front of the president and people coming into the room."
Sarah Huckabee Sanders responds to Biden's address on behalf of the GOP.
As if things couldn't become more dystopian, new Arkansas governor Sarah Huckabee Sanders responded to the State of the Union on behalf of the Republican party. In short, she attacked Biden for "surrender[ing] his presidency to a woke mob" and stated "it's time for a new generation of Republican leadership."
Sanders also previewed what a Republican presidency would look like if the Democratic party is no longer in control based on her actions as governor: "banning critical race theory, repealing COVID-19 orders and preventing state legislation from using terms like "Latinx."