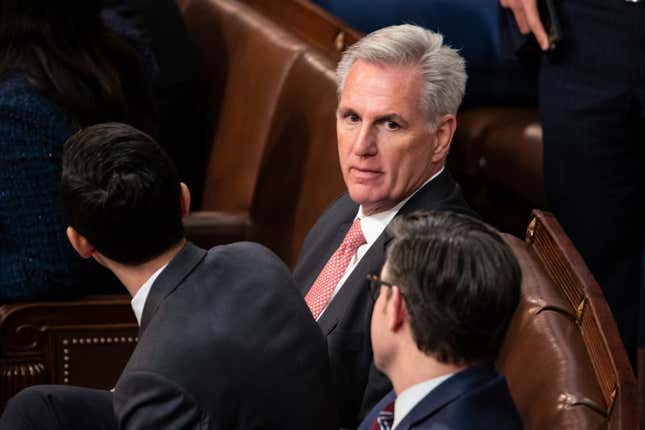 Updated on 1/6/22 at 4:10 p.m E.T:
The latest chapter in the House drama is upon us: the majority Republican House voted to adjourn until 10 p.m. Eastern to permit two supporters of Kevin McCarthy's speaker bid to return to Washington. In addition, this extra time will give supporters of the California Republican an opportunity to lobby remaining GOP holdouts.
McCarthy commented that he would come out victorious Friday night. On Friday, McCarthy picked up significant support from other Republicans who had been preventing his speakership for days but remained short of a majority of votes needed to claim the position. A 14th round of balloting is expected to take place Friday night.
Original post:
On Thursday, the House moved to a ninth vote as Rep. Kevin McCarthy (R-Calif.) failed yet again to win over hard-right Republicans. Over the last 3 days, McCarthy lost his eighth ballot for speaker. Despite groveling and offering concessions that would weaken the position, messy ass Republicans are denying him from proceeding.
Without a speaker in place, the House is simply at a standstill. On the ninth ballot, House Democrats stood strong behind Hakeem Jeffries—the first Black person to lead either party in Congress. California Democrat Ted Lieu nominated Jeffries as speaker and used the opportunity to brag about the party's ability to work together.
"Vote after vote. Nomination for nomination. Democrats are united," Lieu stated. Republicans, on the other hand, are from it. Rep. Matthew M. Rosendale (R-Montana) decided to nominate Florida Republican Byron Donalds.
"The voices that were sent here to equally to equally represent each of the 435 districts across this nation have become diminished," he commented. Rosendale also said that power has been centralized "into the hands of the speaker and a fortunate few who happen to serve on the Rules Committee."
Not everyone is against McCarthy, though. Texas Republican Troy E. Nehls nominated McCarthy and condemned his peers who failed to support him. "This battle we are raging must end," he said. "Kevin McCarthy fully understands that being speaker of the House will not be easy."
McCarthy's humiliating defeats have not deterred him from trying to lock down House speaker. On Tuesday, the 2023 vote made history by becoming the first Congress in 100 years not to elect a speaker on the first ballot.