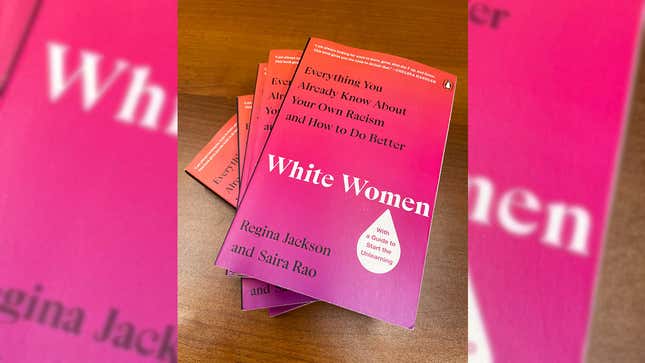 Black people rarely worry about the affairs of white people. But this particular situation required our attention.
It's something about the word "Karen" that gets people angry. It's ironic when you think about it because the people who often get angry about the word 'Karen' are often Karens themselves. This doesn't only apply to Black people who call white women Karens; it also goes for white people, too.
On Wednesday, Julia Hanigsberg, the CEO and president Holland Bloorview Kids Rehabilitation Hospital in Canada, suggested a book on Twitter for her fellow white women, writing in a tweet, "If you're my friend - and a white woman - I may have a present for you. #WhiteWomen #Race2Dinner #DeconstructingKaren"
Along with the tweet, she also shared a picture of several copies of the book, which is titled, White Women: Everything You Already Know About Your Own Racism and How To Do Better.
The book is by Regina Jackson, a Black woman, and Saira Rao, an Indian-American woman, who are the founders of Race2Dinner, a program that initiates "racially honest conversations" about racism and oppression.
The book is described as a guidebook for White women who want to start "dismantling white supremacy" instead of just "being nice." Sounds like a good thing right?
Instead of white people and women telling Hanigsberg, "Yeah, you're right, let us learn about our own privilege and how we can treat Black people and other people of color better," they went absolutely nuts in her comments.
Some of the responses read, "You don't have friends," "It's really weird that you separate your friends by race," "Nice try with the antiwhite racism, love," and "On behalf of all women, you can't sit with us Julia."
Talk about taking a suggestion personally.
It's hilarious because the people who are getting angry over her suggestion are the exact people who need to read a book like that. The official Twitter account for Race2Dinner wrote, "If you want to SEE how badly white people need this book, just read the comments. MY LORD."
In my eyes, it's pretty simple. For white folks, if you're not part of the solution, you're part of the problem. It's not enough to not claim to be a racist. You actually have to be anti-racist to make a dent in the uphill battle that is white supremacy in this country.