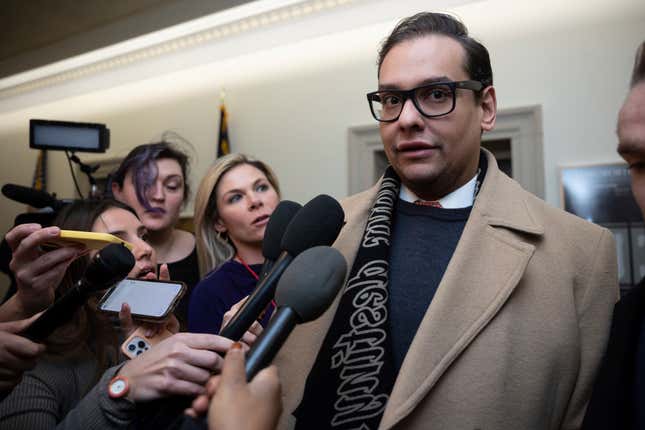 Rep. George Santos is facing calls to resign after his repeated lies have come to light. Freshman Rep. Anthony D'Esposito has urged Santos to step down. In addition, Chairman Joseph G. Cairo Jr. of the Nassau County Republican Committee told reporters Wednesday morning Santos no longer had the support of Republicans in his 3rd Congressional District.
Stars of Lifetime's A New Orleans Noel On Their Rom-Com Christmas Movie
Cairo said as much during a press conference at the GOP's Long Island headquarters. "George Santos's campaign last year was a campaign of deceit, lies and fabrication. He's disgraced the House of Representatives, and we do not consider him one of our congresspeople."
D'Esposito echoed this sentiment and believes Santos' "outright lies" means he does "not have the ability to serve in the House of Representatives and should resign." Others have expressed their desire to see Santos go. Nicholas A. Langworthy, who serves as the chairman of the state's GOP party, says Santos has no place in the party.
He remarked that he "cannot be an effective representative and it would be in the best interest of the taxpayers to have new leadership." Gerard Kassar, who is currently the chair of the Conservative Party of New York State, released a statement that Santos's "profound use of mistruths" "morally disqualifies" him from fulfilling the responsibilities his role entails.
Santos took to Twitter to state that he wasn't going anywhere. He wrote:
"I was elected to serve the people of #NY03 not the party & politicians, I remain committed to doing that and regret to hear that local officials refuse to work with my office to deliver results to keep our community safe and lower the cost of living. I will NOT resign!"
Santos was elected in November, which helped Republicans gain majority of the House. However, last month he was exposed for fabricating his education, work history and even his Jewish heritage.
On Tuesday, four House Democrats sent a letter urging Speaker Kevin McCarthy to exclude Santos from being able to access classified information, which is usually available to members of Congress.