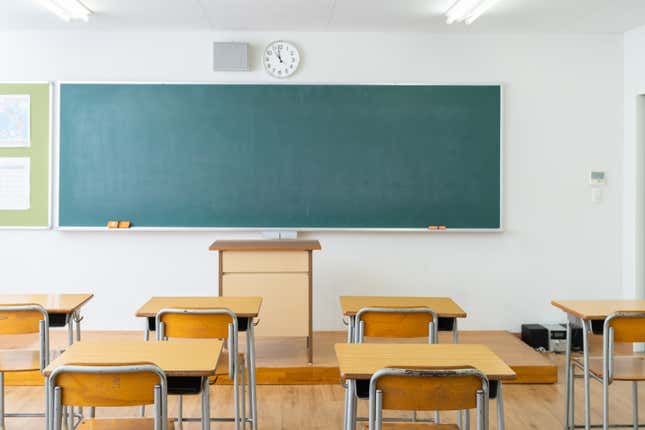 The last thing America needs is the overlapping of our school shooting epidemic and the rise of hate crimes. But, here we are with a Kansas high school student caught sending a series of racist messages on social media—with a threat to bring a gun to school as the cherry on top.

Howard University White Student Sues For "Racial Discrimination"
According to The Kansas City Star, Bishop Miege High School in Roeland Park, Kan. and the local police are investigating a social media threat targeted at Black students. Screenshots of Snapchat messages sent to multiple students are being reviewed, some of which included racial slurs. One message warned Black students to "watch out" because one of the students was "gonna bring a gun to school and shoot [up] these cotton pickers," per The Star.
Bishop Miege officials have shown willingness to take serious action against the student involved. Police chief John Morris told KSHB they may be permanently removed from the school. It's unclear whether the student will face any charges but no credible plan to carry out the cotton-picker threat was found.
Community members responded in disgust to the news of students being subjected to racial threats but saw this an opportunity to remind the school community why anti-racist education is so crucial in incidents like this.
Read more from KSHB 41 Kansas City:
The JCRB/AJC and Urban League said the problem of hate in the community isn't new:

The fact that such hate exists in our society is a sad reality we all must face together. And to see such acts of hate, even amounting to threats, coming from our youth, is even more deeply troubling. Youth, after all, are our future. From our work with high school students, we know that these messages are not indicative of the majority of their generation — who are brilliant, compassionate, and educated leaders. Still, this pattern of incidents is disturbing, and should compel us all to action.

The statement also encouraged parents to talk to their children about issues of race and religious hatred. The two groups are planning ways to provide forums for parents and students to have those difficult conversations.
Even though the school moved swiftly in this instance, Johnson County schools have a broader racism issue on their hands. At another district high school last week, racist, homophobic and antisemitic vandalism was discovered outside the football stadium—and on Martin Luther King Jr. Day, per The Star.
As if the continuous string of racist incidents in the classroom aren't enough, now Black parents must come to the reality that these petty jokes can also turn deadly if one student decides to go all the way.