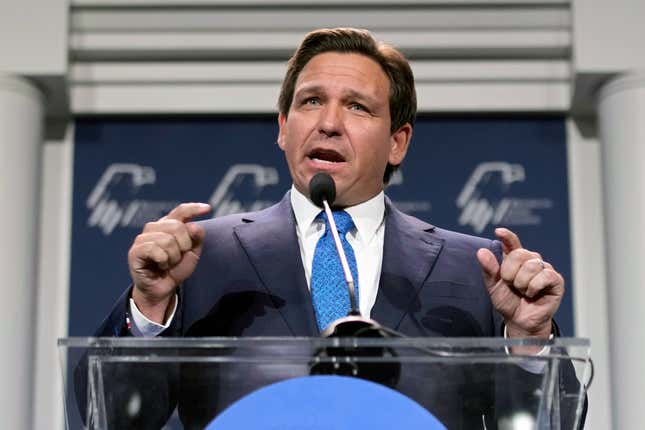 Gov. Ron DeSantis stood by his administration's decision to reject Florida students from accessing an Advanced Placement course on African American studies. In fact, he even went so far as to claim the course would push the "gay agenda" and inappropriate political ideologies onto children, per the Miami Herald.

White People, Here's Why We Need Black History Month
DeSantis didn't say anything new beyond the typical trash he spews about Black history, instilling a fear of anti-racist education into white parents. This time, he weighed heavily on the possibility that a Black studies course may touch on some "controversial" topics such as prison abolition but, most importantly, the intersection of sexuality and race.
"Now who would say that an important part of Black history is queer theory? That is somebody pushing an agenda on our kids. When you use Black history to shoehorn in queer theory, you are clearly trying to use that for political purposes," said DeSantis.

Actually, DeSantis, YOU are the one who has weaponized sexuality for political purposes.
The College Board hasn't even released the whole curriculum to the public. However, DeSantis has already narrowed a year's worth of learning into two chapters. Plus, the report says the Florida Department of Education has joined the opposition, objecting to the readings of several scholars and activists, including but not exclusive to Kimberlé Crenshaw and Angela Davis.
Read the response to DeSantis' remarks via POLITICO:
The move drew swift backlash in the state and beyond, racking up criticism from by academics, advocacy groups and liberal policymakers including the Biden administration, which on Friday said that blocking the course was "incomprehensible."

A coalition of Black faith leaders is now pushing to meet with the DeSantis administration over its decision to block students from taking the course and is planning a march on the capitol in Tallahassee next month. They join a chorus of Black state lawmakers who have denounced the move by the Florida Department of Education, claiming it is an attempt to whitewash history.

"When you devalue my history, and say it lacks educational merit, that is demeaning to us," Rev. R. B. Holmes, Jr., pastor of Bethel Missionary Baptist Church in Tallahassee, told reporters Monday. "And it may be a problem in messaging, maybe they didn't mean it that way. It already has national attention."
I would give anything to go back to my all-girl Catholic high school and study AP Black history. I didn't learn everything about my history until I was a freshman in college - which made the truth even more shocking, but also refreshing and enlightening.
The Florida students who wish to learn about about anti-racism or even pursue careers inspired by it continue to have their voices drowned out by anti-critical race theory croaking. Has anyone asked them what they want to learn?