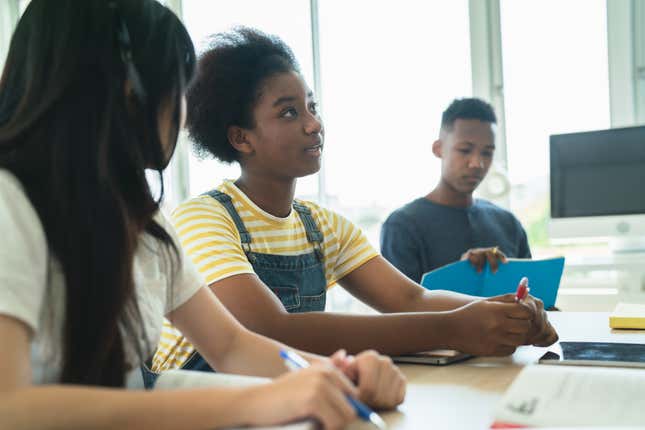 We were all giving the College Board some major side-eye after they announced they were making changes to their African American Studies Advanced Placement course. The timing was just a little too close to Florida Governor Ron DeSantis' "anti-woke" tirade against the course, where he denounced the program for mentioning (*gasp*) the existence of queer Black history.
Small Town Horror: The Story Of A Teacher Driven From Her Job By An Anti-CRT Group
DeSantis' decision to block the class from being taught to Florida high school students may or may not be totally legal. (We'll let the courts figure that one out). But the College Board's decision to change the program days later also felt a little suspicious. Especially since, so far, they've decided to allow Florida to keep its other AP courses.
It also didn't help that the DeSantis administration was actively celebrating the news.
"We are glad the College Board has recognized that the originally submitted course curriculum is problematic, and we are encouraged to see the College Board express a willingness to amend," Alex Lanfranconi, director of communications for the Florida Department of Education, said in a statement on Wednesday to Politico. "AP courses are standardized nationwide, and as a result of Florida's strong stance against identity politics and indoctrination, students across the country will consequentially have access to an historically accurate, unbiased course."
But, after days of being hounded by reporters, on Thursday, the College Board reportedly told their membership that DeSantis had nothing to do with the updates to the program.
"To be clear, no states or districts have seen the official framework that will be released on February 1, much less provided feedback on it," the College Board said in a letter to its membership, according to Politico.
The letter obtained by Politico went on to say that the course had "been shaped only by the input of experts and long-standing AP principles and practices."
According to Politico, those experts included "300 professors of African American Studies from more than 200 colleges nationwide, including dozens of historically Black colleges and universities."
Moreover, the College Board had apparently completed working on the new course in December before DeSantis' outburst.
The DeSantis administration may have been too quick to celebrate. But it'll be worth watching to see what changes were actually made and if the College Board has any plans to stand up to DeSantis publicly.