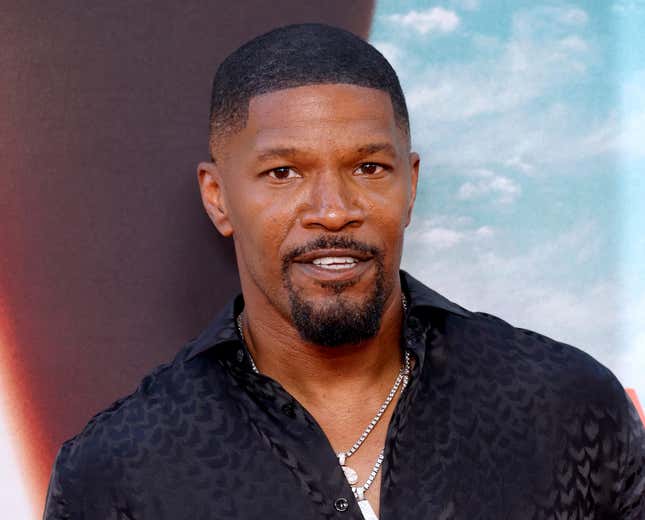 Updated 5/12/2023 at 3:18 p.m. ET:

After media and internet speculation reached a fever pitch on Thursday, Corinne Foxx shared an update about her father Jamie's health. In an Instagram Story on Friday, she wrote, "Update from family: Sad to see how the media runs wild. My Dad has been out of the hospital for weeks, recuperating. In fact, he was playing pickleball yesterday! Thanks for everyone's prayers and support! We have an exciting work announcement coming next week too!"
Lizzo: Live in Concert Is Our TV Pick This Week
The post was accompanied by a photo of the award-winning actor and a quote referencing the reports that his family was "preparing for the worst." Maybe everyone can calm down now and let the man recover in peace.
See the original story below:
Oscar-winner Jamie Foxx has been hospitalized in Atlanta since mid-April with what his family called a "medical complication." The news was confirmed by his daughter Corinne Foxx in an April 12 Instagram post, where she wrote, "We wanted to share that my father Jamie Foxx experienced a medical complication yesterday. Luckily due to quick action and great care he is already on his way to recovery. We know how beloved he is and appreciate your prayers. The family asks for privacy during this time."

Since then, his family has understandably kept the situation very private. Unfortunately, their wishes aren't being followed by everyone. On Thursday, the internet was overwhelmed by rumors that the actor's condition had taken a turn for the worse. Let me be very clear: these reports have yet to be confirmed by Jamie's family or doctors. As of this moment, the only thing we know for certain is that the Any Given Sunday star is still in a hospital in Atlanta, where he is presumably receiving treatment for his medical emergency.
Obviously, we know people are going to speculate and guess about his condition, but that crosses a line when sites are reporting that "multiple sources" say his family is preparing for the worst. Show some respect for how you would want your family treated in the same situation. It doesn't matter that Jamie Foxx is famous, he and his family deserve just as much compassion and decency as anyone else.
We did get a small piece of good news on May 3 when Jamie thanked his supporters on Instagram, writing, "Appreciate all the love. Feeling blessed." It's worth noting that the They Cloned Tyrone star has always been protective of his personal life. Even when he was involved in high-profile relationships, the actor kept it quiet. It's no surprise that his family would follow suit about his health. Bottom line: back off and let them deal with this the way they see fit. We're all rooting for Jamie's full recovery, but that doesn't entitle anyone to his private information.