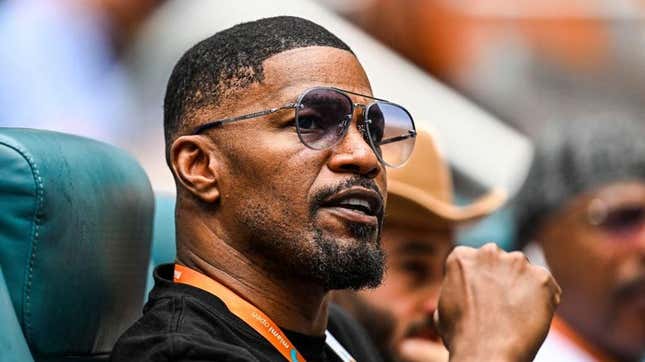 Updated 05/9/2023 at 2:44 p.m. ET:

Despite the news that beloved actor and entertainer Jamie Foxx is in "stable condition" after a three-week-long hospitalization due to a "medical complication," weirdos on social media are still coming up with the wildest conspiracy theories to explain why he was in the hospital in the first place.
Wanda Sykes' New Stand-Up & Beat Shazam Without Jaime Foxx– Our TV Picks This Week
Although Radar Online reported that Foxx suffered a stroke on the set of Back in Action, a movie he's filming, his family has not confirmed the report or discussed what caused his shocking hospitalization.
But still, some people just can't help themselves and come up with the wildest theories to explain Foxx's current condition.
Among the list of crazy ideas, one of them has been that a COVID-19 vaccination is the cause of Foxx's stroke. Despite no solid evidence or research that the vaccine can cause such a scare, idiots like this one below think it's smart to post that it's one of the reasons he's currently not doing well.
Another theory is that Jamie Foxx is dead. Despite his daughter already coming out and saying that he's on the road to recovery and Foxx posting from his Instagram that he's, "Feeling blessed." People still think it's good to put out news that they don't even know is true.
The wildest and most ignorant theory is that P. Diddy is the one that tried to kill Foxx. It's all over tiktok. We won't even repeat this idiotic, homophobic theory. But that's right, people really believe that the founder of Bad Boy Records tried to get the beloved actor and entertainer Jamie Foxx killed. It sounds even more idiotic when I repeat these bag of lies out loud.
The stupidest part about all of these posts is that it is likely that none of these people know Jamie Foxx. I'm sorry, but were you there when these medical issues arose? Do you know his children? Do you know anybody close to him? Do you know his medical history? Do you know anything about Jamie Foxx that you can't look up in a quick Google search?
The answer for most people is no.
It's extremely insensitive for people to go on social media and make dangerous claims that have no credence to them. Foxx is fighting for his life and people are too worried about gossip than the health of the man who is in the hospital.
For those that are spreading these theories, please seek help.