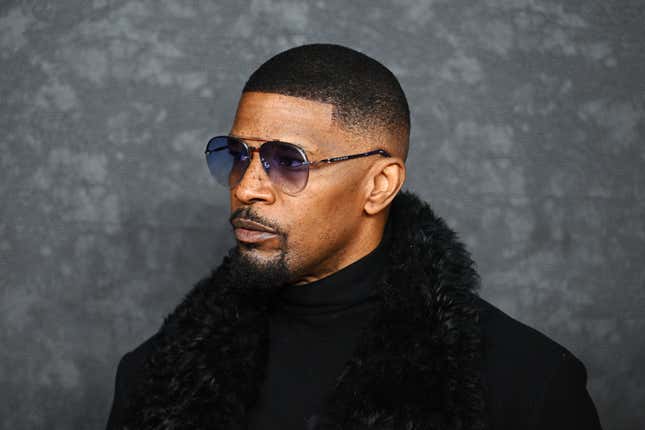 Beloved actor and singer Jamie Foxx has finally broke his silence in the midst of his nearly month-long hospitalization.
Wanda Sykes' New Stand-Up & Beat Shazam Without Jaime Foxx– Our TV Picks This Week
In a post to his official Instagram page on Wednesday afternoon, the Project Power star wrote: "Appreciate all the love. Feeling blessed." This marks the first time Foxx has said anything since he was rushed to an Atlanta hospital following an unspecified "medical complication" three weeks ago. He still remains there and is still on the road to recovery. In the wake of this shocking news, many celebs and fans have taken to social media with the simple message, "Pray for Jamie," in the hopes that the uber-talented multi-hyphenate will be back on the good foot.
Until that happens though, his hosting duties on Fox's hit show Beat Shazam will be going to yet another actor who is no stranger to hosting television: Nick Cannon. Alongside Cannon, Kelly Osbourne will serve as the guest DJ, filling in for Foxx's daughter Corrine, who will be staying by her father's side while he gets better.
"Beat Shazam has been an unscripted mainstay on the FOX schedule for six seasons and counting," the network wrote in a post to its Instagram stories on Wednesday. "This season, not wanting fans of the game show to miss a minute of the fun, Nick Cannon has offered to fill in as guest host for his friends, Jamie and Corinne Fox. Kelly Osbourne will be filling in as guest DJ. The statement concluded, "Everyone at FOX Entertainment wishes Jamie well as he continues his recovery, and we greatly appreciate Nick's willingness to jump in and help this summer."
As previously reported by The Root, near the top of April, Corinne Foxx revealed in a since-deleted post to Instagram that her father had suffered a medical complication and was in recovery.
"We wanted to share that my father Jamie Foxx experienced a medical complication yesterday. Luckily due to quick action and great care he is already on his way to recovery," she wrote at the time. "We know how beloved he is and appreciate your prayers. The family asks for privacy during this time."
The Root continues to send its prayers to Jamie Foxx and all those who know and love him and his family.