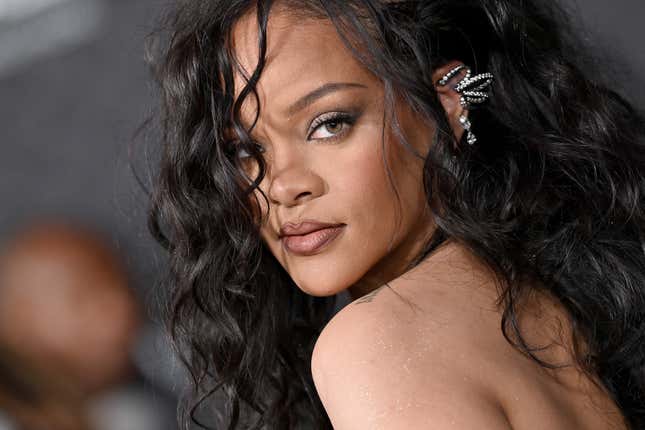 As the NFL playoffs begin, and most of the football world focuses on who will actually end up playing in the big game, the rest of us are locked in on what really matters: Rihanna's plans for her halftime show. Following in the footsteps of previous Super Bowl halftime performers, RiRi is playing things close to the vest, so we have no idea what to expect, but that hasn't dampened our anticipation.

Killing Eve and Cruella Star, Kirby Howell-Baptiste, Plays That's So Random
Just to mess with our heads and drive us even crazier, on Friday, the Grammy-winner released a trailer for the halftime show. Now, if you came here looking for scoops on the set list or production layout, well I've got some bad news. The 30 second clip is basically just the "Diamonds" singer reminding us that she's getting ready for the big event. It opens with a mix of voices explaining how long it's been since we've gotten new music from the Savage x Fenty mogul. Meanwhile, Rihanna is seen with an artistic, uptwist braid and wearing a long, fluffy green coat that only she could pull off. She looks every bit the badass she is as she looks into the camera, puts her finger to her lips and tells everyone to "Shh." The video ends with "Needed Me" playing over the Apple Music Super Bowl Halftime logo.
As long as she works "We Found Love" into the set, I don't really care what Rihanna has planned. It's probably a safe bet to guess that we'll also hear "Pon de Replay," "Don't Stop the Music, "Diamonds" and of course, "Umbrella." If you've been paying attention over the last 20 years, then you know these Super Bowl halftime performances aren't about the music, they're about the spectacle. And no matter how long she's been away from the game, we know Rih will bring spectacle.
Just in case you were wondering if this will lead to that long-awaited album, the superstar put that idea to rest at her Savage x Fenty show in November. "That's not true. Super Bowl is one thing. New music is another thing. Do you hear that, fans?" she told Variety. "The second that I announced this, I said, 'Oh, my God, they're going to think my album is coming. I need to get to work.'"
This is a very busy time for the Ocean's 8 actress, as her inspiring song, "Lift Me Up," from Black Panther: Wakanda Forever is an awards favorite and expected to be nominated for an Oscar, which could lead to another high-profile live TV performance. Rihanna may not be ready to release a new album, but fans are certainly ready to welcome her back to the music world whenever she's ready.