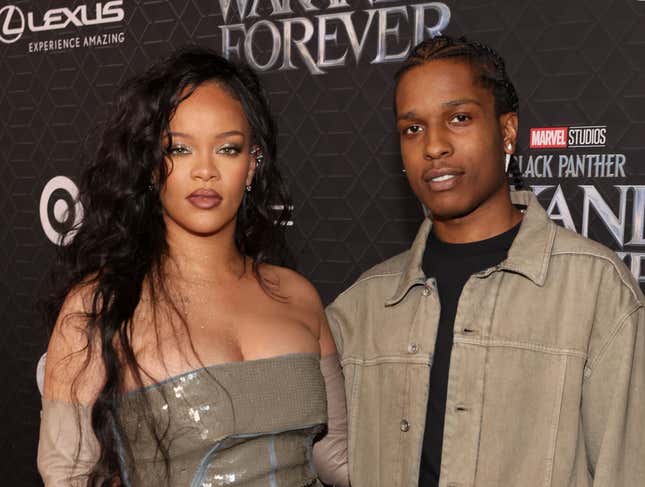 A superstar family may have just gotten bigger.

Rihanna has reportedly given birth to her second child with her partner, rapper A$AP Rocky. According to TMZ, the couple's second child was born on Aug. 3. Though Rih and Rocky have not revealed any details about their newborn, the outlet is reporting that they had a boy and that he's been adorned with a name that starts with R. The couple has a 15-month-old son named RZA, after the Wu-Tang Clan legend.
Is That Black Enough for You?!? Is Our TV Pick This Week
The "Umbrella" superstar confirmed she was pregnant with her second child during her unforgettable Super Bowl Halftime Performance. Ahead of the big game, she discussed motherhood with Apple Music.
"When you become a mom, there's just something that just happens where you feel like you can take on the world," the Grammy winner said. "You can do anything and the Super Bowl is one of the biggest stages in the world."
She clearly took these sentiments literally, as Rihanna stunned the audience at State Farm Stadium in Glendale, Ariz., as well as the millions watching at home, as she ran through her spectacular roster of hits while navigating floating stages suspended high above the football field.
The billionaire fashion mogul shocked the industry in June when she announced that she was stepping down as CEO of her popular lingerie line Savage X Fenty.
"It's been beautiful to see our vision for Savage X Fenty impact the industry at such an incredible magnitude over the last five years," Rihanna said in a statement. "This is just the beginning for us, and we're going to continue to expand in ways that always connect with the consumer."
Of course, that doesn't mean that she's done with the business. The "We Found Love" singer delighted fans recently with the release of a maternity collection for Savage X Fenty. Throughout her pregnancy, RiRi has posted photos highlighting her baby bump, showcasing that pregnant women are definitely still sexy.
Following the birth of her first child, Rihanna and Rocky kept his name a secret for months, so it's safe to assume they will probably be just as mysterious this time around. We may not actually know their baby's name until 2024, and that's OK. Enjoy your family time!