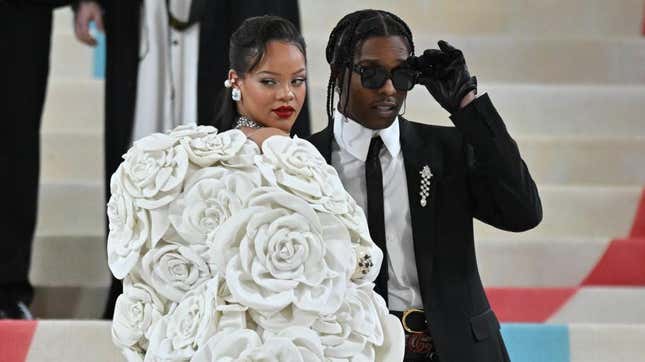 After months of fans speculating what the name of Rihanna and A$AP Rocky's baby son is, and Riri doing her best to keep it a secret, the tea is finally out there—and it's the most hip-hop name ever.
Killing Eve and Cruella Star, Kirby Howell-Baptiste, Plays That's So Random
The name of the baby is RZA Athelston Mayers and he was born on May 13, 2022, in Los Angeles according to The Daily Mail, who reportedly obtained a copy of the child's birth certificate.
That's right, after months of fans speculating about the cutest baby names to give their son, the celebrity couple gave their son one of the coolest, dopest, and hardest names in hip-hop history.
Unless you've been living under a rock for the past 30 years, RZA is a rapper, actor and most notably, a producer who helped start the legendary hip-hop group Wu-Tang Clan and serves as the crew's de facto leader.
Although some may be shocked by the baby's name, you shouldn't be because hip-hop names run in the family. A$AP Rocky's birth name is Rakim, which is named after the iconic MC of the same name. In fact, Rocky's sister, Erika, is also named after hip-hop producer and DJ, Eric B., who made countless classic hip-hop records with Rakim during the late 1980s and early 1990s.
Along with having hip-hop names, Rocky and his son also have similar middle names. Rocky's middle name is "Athelaston" and his son's middle name is "Athelston."
But now that the name of their first baby has been revealed, fans will assuredly move on to their second child, which Rihanna revealed during her Super Bowl 2023 halftime show.
When asked about revealing the name of her son in December 2022, Rihanna said, "We just didn't get around to it yet, really. We've just been living."
She continued, "But I guess…there's a certain freedom that comes with, kind of just like, getting it out there. The challenge is we want to do regular shit with our baby. We want to go to the park. We want to go everywhere, and take walks, and things that we want to do as parents with him. But since we haven't gotten around to sharing him with the world, we have to navigate it extremely, extremely cautiously right now."
Now that the hard part is out of the way, the couple most likely wants to get back to doing "regular shit" with their baby. Let's give them the space they deserve.