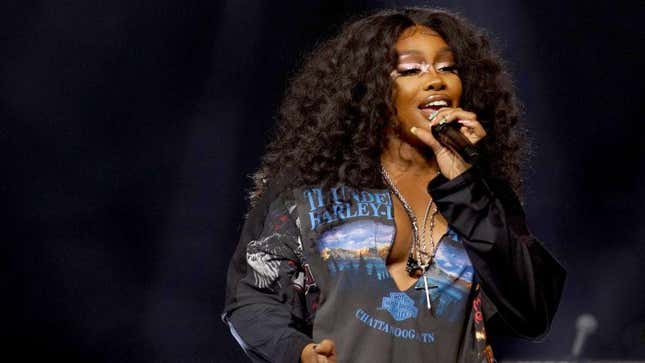 Despite SZA's second studio album, SOS, coming out exactly a month to the day, fans are still listening to the project as if it were released yesterday.
SZA Strikes The Heart With Songwriting Prowess on "Kill Bill"
This week, the TDE singer's sophomore studio album topped the Billboard 200 for the fourth week in a row, becoming the first R&B album by a woman to spend its first four weeks at No. 1 since Janet Jackson's self-titled album, janet, did so nearly three decades ago in 1993.
Also, according to Billboard, SOS is the first album by a woman of any genre, to spend its first four weeks at No. 1 following Adele's 30 doing so between December 2021 and January 2022. Not even an album from popular hip-hop producer Metro Boomin was able to knock her down. Which begs the question, why has SZA's SOS resonated so much with fans?
Part of it is that it's been so long since SZA released a project and fans were eager for new music (it's been nearly five years since the release of her debut studio album Ctrl). But the of her also, SZA's music is relatable in a way that I think many fans can relate to.
While R&B music is still beloved by many, sometimes it can be difficult to relate to the artists creating the music. With SZA, there's no pretense. You can listen to her lyrics and understand exactly what she's going through.
For example, on one of the opening tracks, "Kill Bill," SZA sings, "I might kill my ex/not the best idea/His new girlfriend's next/how'd I get here?/I might kill my ex, I still love him though/Rather be in jail than alone."
While I hope SZA doesn't actually kill her ex, the emotional pull of the music—the rage, the hatred—mirrors feelings a lot of those in romantic relationships have felt from time to time. 
Perhaps the best example of how SZA captures a moment is on the track "Gone Girl," a beautiful breakup song where she sings about the emotions she feels in a relationship and why she thinks it's best for her and her partner to just part ways. She sings, "Can't think, it's too hard to process/Get around you and I regress/I decide what demons I digest/I'm just tired of repeatin', I digress/Tryna find deeper meanin' in nonsense/Tryna grow without hatin' the process/Tired of anticipating the worst yet/Still anticipating the worst."
I don't know about you, but that sounds like a woman who's had enough of her current relationship. With each song, SZA is sharing a new relatable emotion with the listeners. On "F2F," a pop-rock track, SZA sings about having make-up sex with other men because she misses her ex.
These relatable emotions that SZA displays along with her magical way of combining sounds, genres and themes on one album are what have made this particular release so noteworthy, thus already making it one of the most popular albums of 2023.