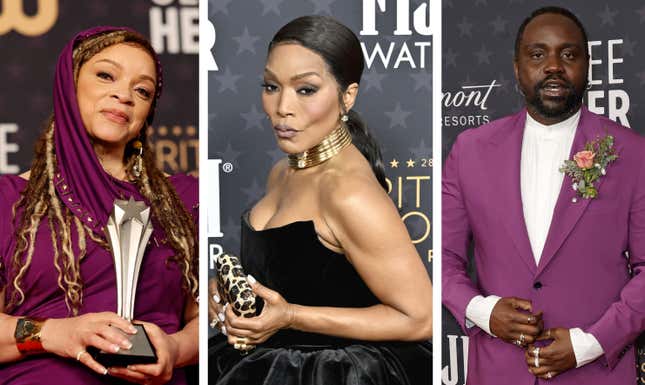 After a long and winding road, we've finally reached the pinnacle of awards season: the nominations for the 95th Academy Awards.
2023 Oscars: Ruth Carter On Turning Angela Bassett Into A Queen Through Costume
We had a good idea of what names and projects would get the highly coveted awards recognition, but we were still surprised by a couple of the nominees and snubs. Despite some shocking omissions—shout out to The Woman King and Till—we were still excited to see so many inspiring Black artists receive their extremely well-deserved flowers.
Let's start with our one true queen: Angela Bassett. She received a nod for her jaw-dropping performance as Queen Ramonda in the Marvel Studios blockbuster Black Panther: Wakanda Forever. Even though we all expected her name to be announced, Bassett is one of those legends who we feel still hasn't been given her proper due. She's so consistently fantastic in every role, yet the world seems to take her talent for granted. And just to be clear, when I say the world, I don't mean Black people because we have never for one second forgotten about our queen's brilliance.
The team of Black Panther: Wakanda Forever also got nominations for Visual Effects, Makeup and Hairstyling and Oscar-winner Ruth E. Carter—who won for the first film—for Costume Design. The nod we're most excited about is definitely "Lift Me Up" for Original Song. Fingers crossed this means we're going to get an emotional, show-stopping live performance from Rihanna.
Over in the Best Supporting Actor category, we got an awesome surprise when Brian Tyree Henry was nominated for his beautiful work in Causeway. While Ke Huy Quan is the unquestioned favorite for Everything Everywhere All at Once—and deservedly so—this is a huge deal for Henry. I truly hope this leads to more high-profile roles and an overdue career bump.
Speaking of Everything Everywhere All at Once, we need to take a few moments and celebrate this truly unique piece of art. It leads all other nominees with 11 nods and is so fresh and different, it demands recognition. And just in case you're wondering, I am 100 percent team Michelle Yeoh for Best Actress.
I won't deny that we're disappointed by the head scratching snub of Viola Davis in Best Actress, or the overall lack of respect for the monumental task Ryan Coogler had to accomplish with Black Panther: Wakanda Forever. But we'll save that for a later discussion. Right now, we just want to showcase and applaud these Black artists for this career-defining honor.
The 95th Academy Awards, once again hosted by Jimmy Kimmel, air live Sunday, March 12 on ABC.