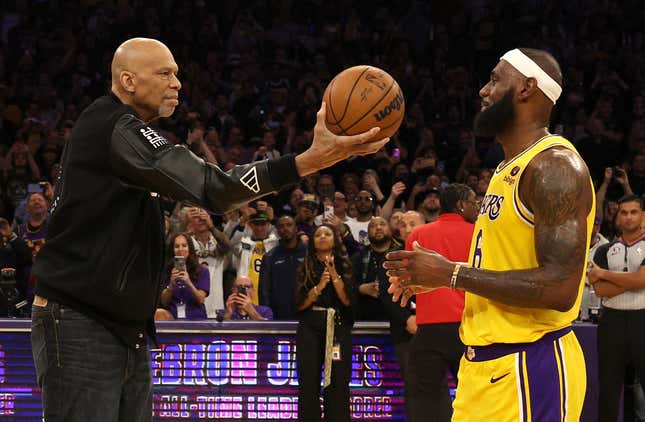 Well, it's official.
LeBron James has passed Kareem Abdul-Jabbar as the NBA's all-time leading scorer. Per ESPN, on Tuesday, while playing the Oklahoma City Thunder at Crypto.com Arena in Los Angeles, Calif., the basketball superstar dropped 38 points, hitting the record breaking shot with 10.9 seconds left in the third quarter. The record now stands at 38,390 points and counting. He may be 38-years-old, but the king doesn't look like he's planning to slow down anytime soon.
You Okay Fam?: Should You See A Therapist Without Having A Problem?
In the weeks leading up to LeBron breaking the record there was a lot of talk about how exactly he would do it. James hinted that he might use Kareem's signature sky hook as a tribute, but didn't clarify exactly what shot he would go for. He told ESPN's Michael Wilbon he didn't want it to happen on a free throw, because that would have felt like cheating. In the end, it was a fadeaway jumper that broke the record. The game was then stopped to acknowledge the moment, with Kareem joining LeBron on the court as he thanked the fans, his friends, family and teammates for their support.
"I just want to say thank you to the Laker faithful. You guys are one of a kind," James told the crowd. "To be able to be in the presence of such a legend and great as Kareem, it's very humbling. Please give a standing ovation to The Captain, please."
As a lifelong Los Angeles Lakers fan, I can tell you that our relationship with James has always been somewhat complicated. He's never truly felt like one of our guys. He's never been treated like Lakers legends Magic Johnson; Kobe Bryant; Shaquille O'Neal; or Kareem. Yes, he won a championship, but since it happened during quarantine, while teams played in the bubble, we never got to have the big parade and celebration, so it's never held the same weight as other Lakers titles.
That being said, the feeling in the arena was clearly electric. You could even feel it through the television. This was the moment Lakers Nation truly embraced LeBron. Now, if we can just get everything else to click, then we wouldn't lose to teams like the Thunder, which is how the night actually ended.