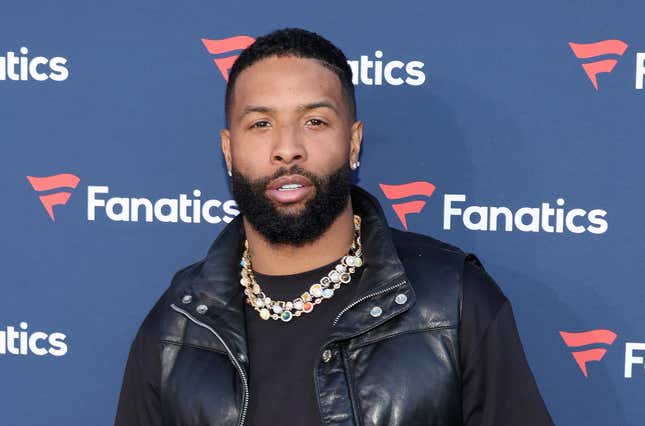 With NFL teams examining their rosters ahead of the 2023 Draft, one player is taking things into his own hands and not waiting for the phone to ring. ESPN is reporting that free agent wide receiver Odell Beckham Jr. is holding a workout for teams in Arizona. After suffering a torn ACL while playing for the Los Angeles Rams in Super Bowl LVI, he missed the entire 2022 NFL season.

Odell Beckham Jr. & How Misogyny Harms Black Men
Heading into the 2023 season, there are quite a few squads who can use a wide receiver the caliber of Beckham. First of all, his former team, the New York Giants, are expected to attend the workout. They recently re-signed young QB Daniel Jones and he definitely needs a solid No. 1 receiver who can help him grow.
Other teams rumored to be in attendance are the New York Jets, Baltimore Ravens and New England Patriots. And although they haven't been among the teams mentioned, the Dallas Cowboys did make a big push for the LSU alum during the 2022 season. All these teams definitely need OBJ, but his best fit is probably with the Patriots.
The Ravens situation is up in the air until they make a firm decision on Lamar Jackson, so it feels like there's too much uncertainty there. If the Jets end up signing Aaron Rodgers, I don't see a world where the egos of both men can coexist on the same team. While I'm sure Odell would love the attention he gets from being a Cowboy, it could also just as easily be a trainwreck because there's no middle ground where Dallas is concerned. With the Cowboys, it's either awesome or terrible. That leaves the Patriots, who have a legendary coach and a young quarterback full of potential. It also feels like a place where Beckham wouldn't have to carry the entire offensive load. Personally, as a Saints fan, I'd like to see him back in Louisiana playing with a veteran QB in a division that isn't as pressure packed. You can win the NFC South with an 8-9 record.
After tumultuous years with the Giants and Cleveland Browns, Beckham signed with the Rams in 2021. OBJ rejuvenated his career in Los Angeles and was a major part of LA's Super Bowl winning season. He was balling out in the big game when he injured his knee, with many analysts saying he was on his way to winning a Super Bowl MVP. It was the first glimpse of that stand out 2014 OBJ we'd seen in years. Even though he didn't play last season, the last impression NFL teams had of him was that he was playing at an extremely high level. If he shows just a small piece of OBJ, the highlight reel, teams should be looking at him seriously.