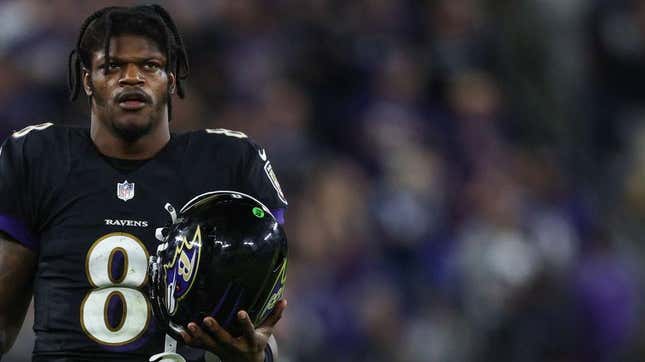 Lamar Jackson is a generational talent. I know sports fans throw that word around a little too often, but despite not being able to win a Super Bowl yet, Jackson has accomplished so much already in his career at the young age of 26.
In 2019, he became the youngest NFL MVP ever after leading and was the second player to ever take home the award unanimously after leading the Baltimore Ravens to a 14-2 record. That same season, he also broke Michael Vick's record for the most rushing yard by a quarterback in an NFL season. Throughout his career, he has the second-best winning percentage of all time, only behind Patrick Mahomes, Tom Brady and Roger Staubach. To consider Jackson something other than a historical and unique talent is just flat-out wrong. So why aren't any teams opting to pursue the star QB even though he's available to negotiate with teams outside of the Ravens?
Baltimore Ravens use the franchise tag on Lamar Jackson
On Tuesday, the Baltimore Ravens announced that they are using the franchise tag on their star quarterback.
Normally, teams franchise tag a player when they are unable to negotiate a long-term deal, which is the case for Jackson, don't want to give that player a deal, or if they want to see another year of productivity so they can be sure of whether they want to sign him to a long-term contract.
For those who are unaware, the franchise tag allows NFL teams to select one player who is set to be an unrestricted free agent and guarantees them another year under contract.
The Ravens gave Jackson the non-exclusive tag, which means Jackson is allowed to negotiate a contract with other teams. If he receives an offer, the Ravens have the opportunity to march it, if they don't, they receive two first-round draft picks in exchange. But despite Jackson being open for business no team has walked into the store. Why?
Is the NFL colluding against Lamar Jackson?
Since it was announced that the Ravens put the franchise tag on Jackson, teams have already shared that they will not be pursuing him, despite having terrible quarterback situations of their own.
On Tuesday alone, it was reported that the Dolphins, Panthers, Raiders, Commanders, and Falcons will reportedly not be pursuing a deal with Jackson—even though each of these teams (outside of the Dolphins) has a severe need at quarterback.
Many in the NFL community have pointed out that it's very odd no team has voiced public interest in him and this has already led to people claiming that the NFL is colluding against Jackson, and it's hard to argue.
Why is no team showing interest in Jackson?
I suspect that it's because of Deshaun Watson. Yes, the current quarterback of the Cleveland Browns who received a five-year, $230 million fully guaranteed contract after being accused of sexual misconduct by 24 women.
That gaudy contract opened the door for players in the NFL to receive long-term, fully guaranteed contracts, something the league has never done before and something they would prefer to stay away from. This is relevant to Lamar Jackson's situation because not only is Watson in the same division as him, but Jackson also wants the same contract Watson received. A fully guaranteed five-year contract that is as close to $230 million as possible.
Jackson has a good argument. He's won an MVP, but Watson hasn't. Jackson has the fourth-best winning percentage of all time and Watson doesn't even sniff the top 30. Watson had 24 women accusing him of sexual misconduct and Lamar has had no issues off the field.
The one thing that's stopping the Ravens and the rest of the league from negotiating with Jackson is the guaranteed money he wants. That's why the Ravens were so willing to franchise-tag their star quarterback. They know that no other team in the league will be willing to give him the fully guaranteed deal he wants.
So now, Jackson is stuck in NFL purgatory despite being one of the most talented and best quarterbacks in the league. Is it collusion? It sure smells like it.