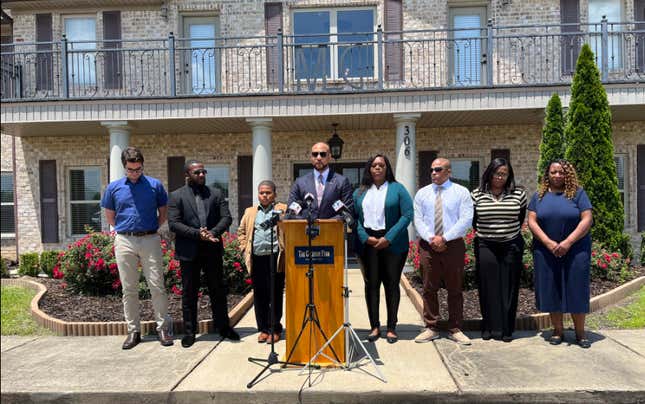 The family of Aderrien Murry, the child who was shot and injured by an Indianola police officer filed a lawsuit against the officer and department, according to the Huffington Post. The suit alleges the officer used excessive force in the shooting.

Small Town Horror Story: The Killing of Aiyana Mo-Nay Stanley-Jones
The lawsuit says officer Greg Capers and Chief Ronald Sampson responded to a domestic disturbance. The boy was ordered by his mother, Nakala Murry, to call 911 for help after she and her ex-boyfriend got into an argument. When Capers walked up to the home, he had his gun drawn and ordered everyone to come outside. He shot Aderrien as he walked out from the hallway with his hands raised above his head.
Family attorney Carlos Moore called for Capers to be fired but so far, he's just been suspended by the department with pay. The suit blames his training for the way he acted.
Read more about the lawsuit from NPR:
The lawsuit filed by Carlos Moore, the family's attorney, accuse the police of violating Aderrien Murry's civil rights — specifically the Fourth Amendment's protection against the use of excessive force and the 14th Amendment's guarantee of due process.

"What we do know is he obeyed the officer's command," Moore said of Aderrien, according to member station Mississippi Public Broadcasting. "He came out of his room with nothing in his hands and was shot."

"He was not a threat to anyone. He was just obeying the command."
The suit comes right after the Murrys spoke out publicly about the incident on ABC's Good Morning America. The boy recalled the feeling of being shot and described as a "big punch to the chest" and also said he remembered bleeding from the mouth. He also recalled asking his mother, "What did I do wrong?" and saying he didn't want to die.
Nakala Murry told GMA3 she didn't have time to harbor hate toward Officer Capers because she was so overjoyed that her son was alive following a collapsed lung and various internal injuries. However, she did say she wanted justice to be served.
"You're here to protect and serve. In this case, we didn't feel protected. We felt like victims," Murry said via NPR.