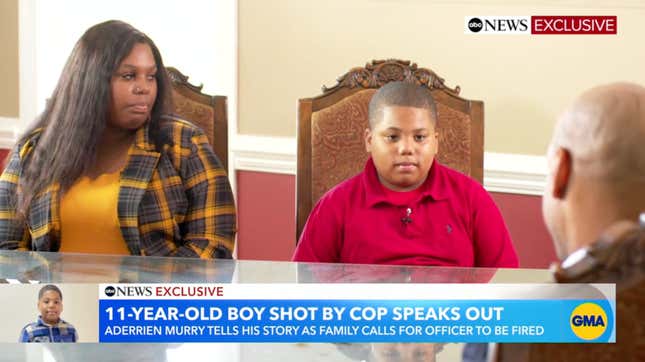 In a soft spoken voice, 11-year-old Aderrien Murry told ABC's Good Morning America the heart-wrenching details of the night he nearly lost his life by the hands of a police officer. The boy was shot and injured by a responding officer after dialing 911 for help.
Small Town Horror: The Story Of The Cops Who Let A Man Drown
His innocent account of what sounded like a nightmare paints the shooting in an even more disturbing light.
The child recalled being woken out of his sleep to the sound of his mother, Nakala Murry, and the father of one of her kids arguing. He was instructed by his mother to call 911 for help. Once Indianola Officer Greg Capers arrived, he came out of his bedroom with his hands raised above his head. Despite the signal of surrender, Capers fired a shot at the boy's chest. Aderrien said he grabbed his chest and described the pain to be like that of Taser or "a big punch to the chest."
"I actually thought I was about to lose my life," he said.
He immediately ran to his mother outside. Though, by the time he got to her, he began bleeding from his mouth. The boy said in that moment, he leaned on his faith to save him.
"I just remember singing a song... 'no weapon formed against me shall prosper,'" said Aderrien, singing to the tune of Fred Hammond's "No Weapon."

Read his mother's account from ABC News:
Murry told ABC News she gave Aderrien the phone and asked him to call his grandmother after she said she woke up around 4 a.m., heard a knock on the window and saw her ex-boyfriend standing outside.

"I noticed he was kind of irate. And from dealing with him in the past, I know the irate version of him, what it could lead to," she told "GMA3."

ABC News has reached out to the ex-boyfriend but a request for comment was not immediately returned. According to Murry, Aderrien first called the police and then he called his grandmother, who also called 911.

She explained that two officers responded to their home in Indianola, and her daughter's father asked her not to open the door as police tried to break in. "I heard a shot and I saw my son run out toward where we were," she said recalling the shooting.
The bullet collapsed the boy's lung and cut his liver, per ABC. Before this incident, Aderrien desired to be a police officer. However, following the shooting, he told GMA3 he changed his mind.
"Because I got shot... that's why I don't want to be a police officer anymore," he said. Now, Aderrien plans to become a doctor, like the ones who helped him recover from his injuries.
In regards to the officer, the boy's family simply seeks for justice to be served.
"I feel like he should be terminated. I don't hate him. You know, I'm angry, but I'm so much overfilled with joy at the fact that my son is alive that I don't have room for anger right now. I want justice to be served," said Murry.
Indianola Mayor Ken Featherstone told ABC the officer was suspended Monday. Whether he will face criminal charges is up to the outcome of the Mississippi Bureau of Investigation's findings.