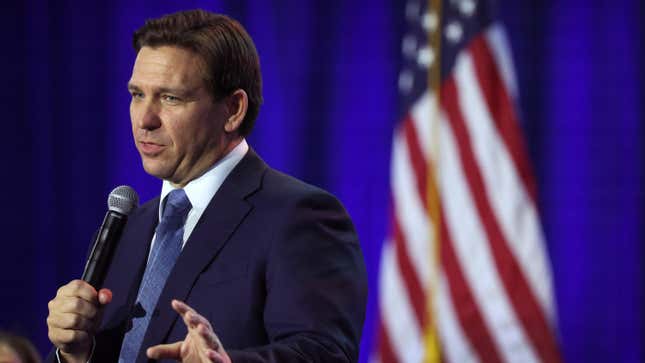 Ron DeSantis has seemingly broken his silence about Donald Trump's legal woes. This time, Trump is accused of giving hush money payment to adult film star Stormy Daniels. Although he has managed to escape consequences for his actions, he could be arrested Tuesday (March 21).
NYPD Using "Zombie Warrants" To Skip The Courts and Lock People Up, Lawsuit Says
During a news conference Monday (March 20), DeSantis shared this thoughts on what's happening. In short, he believes that Trump is wrongfully being targeted. "I have no interest in getting involved in some manufactured circus by some Soros-DA," DeSantis stated, referencing Manhattan District Attorney Alvin Bragg.
In a statement provided to The Root, Color Of Change PAC explained:
"As one of the largest Black-led political action committees in the country, Color Of Change PAC is not owned or controlled by Mr. Soros or any of his agents. ColorOfChange PAC did not in any way "donate" to Mr. Bragg's campaign. Our publicly available election filings show our independent activity in the race."
However, that didn't stop DeSantis from making his ridiculous claims. "He's trying to do a political spectacle. He's trying to virtue signal for his base. I've got real issues I got to deal with here in the state of Florida," he said. "I don't know what's going to happen but I do know this: the Manhattan district attorney is a Soros-funded prosecutor."

DeSantis also made it a point to reiterate that Bragg is coming after Trump for political gain. "I don't know what goes into paying hush money to a porn star to secure silence over some type of alleged affair, I just, I can't speak to that," he continued. He also insulted the prosecutor, saying: "That's an example of pursuing a political agenda."
Over the weekend, Trump referenced the notion that that he could be arrested as media outlets reported a Manhattan grand jury looked likely to hand down an indictment over his alleged involvement in the scheme to hide campaign funds that were used to pay Daniels.
"THE FAR & AWAY LEADING REPUBLICAN CANDIDATE AND FORMER PRESIDENT OF THE UNITED STATES OF AMERICA, WILL BE ARRESTED ON TUESDAY OF NEXT WEEK," Trump posted on Truth Social on Saturday morning. He went on to say: "PROTEST, TAKE OUR NATION BACK!"