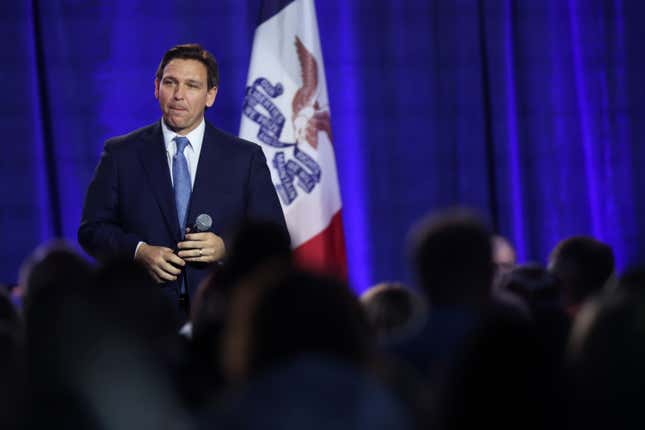 With a record that includes anti-protest and anti-voting rights bills, you don't have to look far to find evidence of Florida Governor Ron DeSantis' desire to roll back decades of progress for people of color. And now it looks like diversity and inclusion at institutions of higher learning are the latest instances of progress under attack in the sunshine state.

Your Tax Dollars Are Funding Anti-Abortion "Crisis Pregnancy Centers"
What's at Stake?
Provisions in House Bill 999 put school hiring decisions in the hands of a mostly governor-appointed board of trustees and takes diversity, equity, and inclusion out of the hiring equation. But what has many people up in arms is a clause some think might impact Black Greek Organizations and other important institutions that support students of color. Language in the bill, which is now with the Education and Employment Committee would "prohibit higher education institutions from using any funding, regardless of source, to support DEI, CRT, and other discriminatory initiatives."
And while those discriminatory initiatives aren't clearly defined, some like Jasmine Burney-Clark, a member of Alpha Kappa Alpha Sorority, Inc. and founder of the political non-profit Equal Ground, say that it is intentional to leave schools plenty of room to be racist.
"We believe the intention is to be broad and vague. But while the wording is vague, the targets are very clear, and that is marginalized people," Burney-Clark told The Root. "If a school that receives public funding from the state of Florida believes that [historically Black fraternities and sororities] fit under a diversity, equity and inclusion or a 'woke' agenda that pushes an ideology that does not align with the governor, they can choose not to have that programming at their school."
Former Florida Representative and member of Kappa Alpha Psi Fraternity, Inc Dwight Bullard adds that if the government is doing a broad sweep of ethnic studies, gender studies, or anything that promotes diversity, equity and inclusion on a college campus, everything could be fair game.
"It calls into question the relevancy of a Black Student Union or a Hispanic Student Union on campus or other things that have been universally adopted to create safer spaces for these individuals who 70 years ago wouldn't have been welcome on these campuses," he told The Root.
And while the bill may not be able to successfully remove Black and Latino/a Greek Organizations, Bullard said it could have an impact on the work they do in their communities. "If the AKAs wanted to do their annual UNCF fundraiser, they may not be allowed to continue and asked why they aren't supporting the American Heart Association instead."
Could This Actually Pass?
As a result of a gerrymandered redistricting map, Republicans have a supermajority in Florida, controlling both houses of Congress and the Governor's mansion in the state. "He's created a world where his bills are guaranteed to pass," Burney-Clark said. "And if they don't pass, he can withhold the budget, not sign bills favored to his Republican leadership, and withhold endorsements for Republican reelections to get his way." At the time of this writing, there are discrepancies in the House and Senate versions of this legislation. But it's likely the two chambers will come together to push this through.
Considering his prior actions, Bullard says DeSantis has already showed us who he is. "He has been very deliberate in his desires to want to eliminate a number of things. The fight around the AP African American History course brought a lot of things to light for folks," he said.
What Can You Do?
Burney-Clark says one of the best ways to help is to attend one of the committee hearings in Tallahassee. "And if you can't attend in person, you can attend the House sessions virtually," she says.
But Burney-Clark and Bullard warn us not to blow this off as something only Florida folks should be worried about. The fact that DeSantis potentially has his eyes on the Oval Office should concern us all. "This is no longer just a Florida problem. [DeSantis] is now potentially going to be on the nation's ballot in 2024, so he is a national threat," Burney-Clark said.