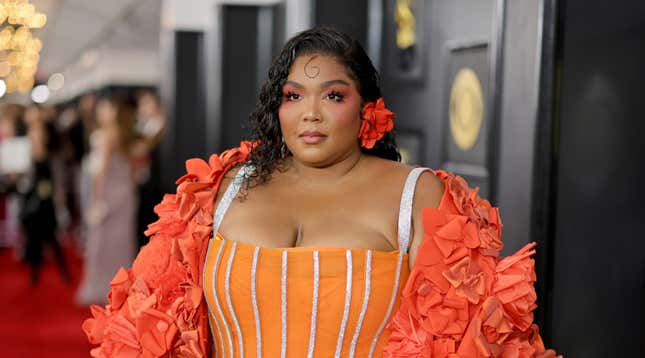 Spoiler Alert! If you haven't seen The Mandalorian "Chapter 22: Guns for Hire" stop reading now!

Seriously, this is your last chance.
OK, you've been warned.
It's official! Plazir-15 is my new favorite planet in the Star Wars universe. I absolutely want to live on any planet where Lizzo is in charge. Fans of the Grammy winner got a surprise on the new episode of The Mandalorian when Din Djarin, Bo-Katan Kryze and Grogu visited Plazir-15 to reunite with Bo-Katan's former mercenary crew and met some familiar faces at the palace. The "About Damn Time" artist appears as the Duchess alongside Jack Black's Captain Bombardier as the rulers of the planet.
Turns out the planet has a problem with malfunctioning droids and needs the duo to help them find the source of the issue. In another surprise cameo, Christopher Lloyd plays Commissioner Helgait, the man behind the reprogrammed droids, who also reveals himself to be a Separatist. To thank them for their help, the Duchess pledges an alliance between Plazir-15 and Mandalore, meaning Lizzo could show up again in the Star Wars universe.
"Guns for Hire" also features a beautiful moment in a droid bar where the machines express their gratitude at being repurposed into useful beings, instead of being scrapped by the New Republic. The useless bureaucracy of the New Republic has been an overarching theme of the season. The government is so busy trying to not be the Empire, they don't seem to actually be doing anything useful. No wonder it only took 30 years for the First Order to regain power.
On Wednesday, after the episode premiered, the "Special" singer tweeted out a photo of herself surrounded by Baby Yoda merchandise with the caption, "I'm in Star Wars YALL!" Like the rest of us, Grogu is instantly enchanted by the Emmy winner and they have several adorable scenes together.
If you love Lizzo, but Star Wars isn't your thing, she recently announced that her award-winning reality competition series, Watch Out for the Big Grrrls, is returning for Season 2. She posted a casting notice, writing, "Hi. I know it's been a lot of noise. My mission is to help as many marginalized people as I can with my platform…If you are a big girl that can sing & dance I'm currently holding auditions for season 2 of my show 'Watch Out for the Big GRRRLS'"
You can check out Lizzo in The Mandalorian on Disney+. New episodes premiere every Wednesday.