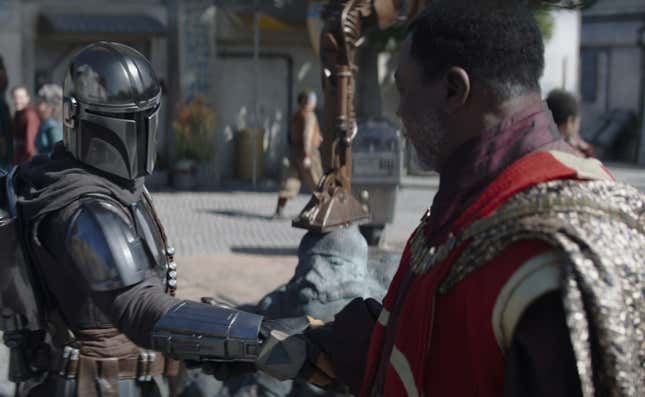 SPOILER ALERT: If you haven't watched the Season 3 premiere of The Mandalorian, stop reading now!

Grand Crew: Season 2 & The Mandalorian: Season 3 Are Our TV Picks This Week
Feel free to come back and see what's up after you've watched "Chapter 17."
Seriously, this is your last chance! OK, you've been warned.
After a surprise appearance in the finale of The Book of Boba Fett, Din Djarin returns for his next adventure in Season 3 of The Mandalorian. The bounty hunter and his adorable charge, Grogu, are on a quest to restore his honor by bathing in the living waters of the mines of Mandalore. As he begins his mission, he needs help from an old friend, reuniting with Carl Weathers' Greef Karga.
As Din and Grogu walk through Navarro, it's clear the town is no longer the lawless haven for bounty hunters it once was. It's become a civilized city and is now under the leadership of Magistrate Karga. Excuse me, High Magistrate Karga.
Greef offers Din his own piece of land where he can settle down and become an asteroid miner. Of course, that's not what he wants, but before he can ask for a favor, they're interrupted by pirates causing trouble.
Greef tries to explain that things have changed, but the pirates are hearing none of it. During a showdown, the old friends have no trouble taking down nearly all the pirates, showing that the former bounty hunter Guild operator may be a legislator now, but he still has some outlaw left in him.
The way Weathers has masterfully taken us through this evolution of his character over the last three seasons is captivating. When we first met Greef, he was all about getting paid. The actor made it clear to us that there was more to him than meets the eye, but he wasn't ready to risk it all to take down the last remnants of the Empire. However, one life-saving encounter with Grogu planted the seeds for him to become the person he's always seen himself as. Every time Din returned to Navarro we saw a new depth to the character, leading us to anticipate Greef's sporadic appearances. His reveal as a High Magistrate, dressed in colorful finery with a flowing cape is a cool payoff for fans. It's like finding out your friend got that promotion you knew they deserved.
In addition to playing Greef Karga, Weathers will once again direct an episode of the Star Wars series. Other Season 3 directors include executive producer Rick Famuyiwa and Spider-Man: Into the Spider-Verse Oscar-winner Peter Ramsey.
The Mandalorian Season 3 is now streaming on Disney+, with new episodes premiering every Wednesday.