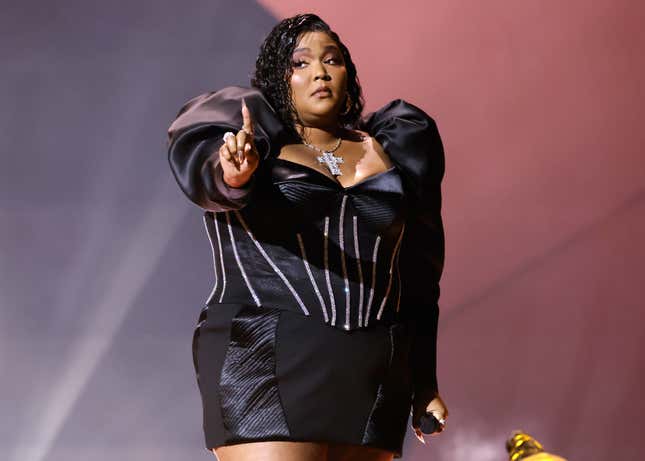 I cannot overstate how truly special Lizzo is as an artist and role model. Yes, pun intended. Every single time she's on stage, she's letting plus-sized Black women know that someone sees them for more than just their weight. She delivered another memorable live performance at the 65th Annual Grammy Awards, singing her new hit "Special."

Introduced by Jayla Sullivan, one of the dancers from her Prime Video series Watch Out for the Big Grrrls., Lizzo started with a quick a capella version of "About Damn Time," then segued into a show-stealing, gospel tinged performance of "Special." She was joined by an all-Black woman gospel choir as she brought the Crypto.com Arena to its feet.

After a well-deserved standing ovation, host Trevor Noah described the "Juice" singer as "like if dopamine was a person." On social media, viewers celebrated Lizzo's uplifting moment.
One user called out the singer's haters, tweeting, "Where the "@lizzo doesn't have talent", "she's only popular because she's fat", and "she can't sing" haters at? I think it's time to repent."
Another fan didn't beat around the bush, writing, "Lizzo performance was fucking amazing."
"@lizzo brought us to church at the #GRAMMYs. HALLELUJAH!!!!," read one fan's tweet.
One fan noted how the performance highlighted Lizzo's amazing talent, writing, "Yeah Lizzo them vocals was made in the church ain't no vocal coach can teach that that's the lord using you as a vessel baby."
As if stealing the show wasn't enough, she also took home one of the biggest awards of the night, winning Record of the Year for the endlessly catchy "About Damn Time." She dedicated the award to Prince, saying that after he passed away, she chose to start making positive music.
"Anybody at home who feels misunderstood, or on the outside looking in, like I did, just stay true to yourself," the Grammy-winner said. "I promise you, you will attract people in your life who believe in you and support you."
What was so great about Lizzo at the Grammys is that every time we saw her on camera, she was clearly having the time of her life. We should all enjoy life the way Lizzo does.