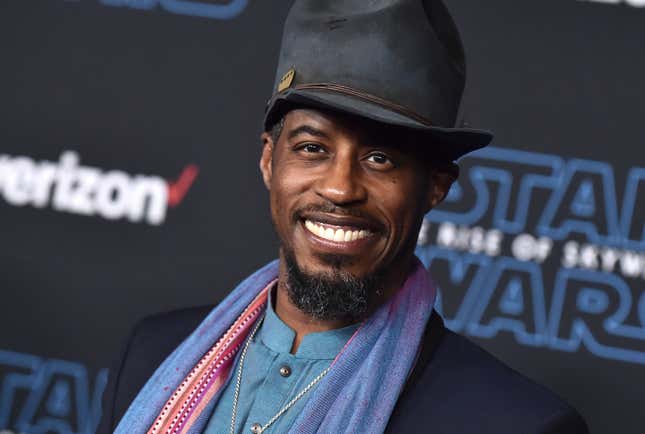 Spoiler Alert! If you haven't watched The Mandalorian "Chapter 20: The Foundling" stop reading now!

Grand Crew: Season 2 & The Mandalorian: Season 3 Are Our TV Picks This Week
OK. You've been warned.
If you watched The Mandalorian "Chapter 20: The Foundling," you know that we got a deeper look at how Grogu survived The Emperor's Order 66. As clone troopers attacked the Jedi Temple on Coruscant, Jedi Knights and Padawans protected Grogu as he escaped. As he took an elevator down to a ship, he was met by Kelleran Beq. Known as "The Sabered Hand," the Jedi Master used two lightsabers to thwart the troopers as he and Grogu hopped on a speeder bike and raced through the city. They eventually reached a waiting ship, where they were able to jump to lightspeed and escape the Empire.
As thrilling as this flashback was, the appearance of Ahmed Best as Beq made everything even more emotional. Best is most well-known for his portrayal of Jar Jar Binks in Star Wars Episode I: The Phantom Menace. The character was widely maligned, with Best becoming the victim of a brutal, relentless bullying campaign. Following the negative reaction to a character he put so much of himself into, the actor found himself in a dark place and he almost took his own life. In recent years, he's returned to the Star Wars fold, receiving a much warmer welcome from the fanbase. Even though he still loves the franchise, Best told StarWars.com that it was difficult to decide whether to rejoin the universe in The Mandalorian.
"Honestly, I had to think about it. I've been in the Star Wars world for such a long time and my story is such a rollercoaster ride of emotions. So coming back to Star Wars wasn't an easy decision for me. It wasn't something I could have immediately said yes to. I did have to marinate over it for a bit," he said. "I mean, I was excited. I don't think people really understand how much I care about Star Wars. Like, I really care. I really, really care about the storytelling, about the mythology, about the fans. I really want Star Wars to deliver, and if I become an obstacle to that, then I shouldn't be in it. I don't want to be bigger than the story. I don't want to be bigger than the mythology. I want to contribute, I want to add to it. So it took me a minute."
Despite all the emotions involved in returning to the galaxy far, far away, Best explained that once he was on set and once again immersed in the world, he was fully committed.
"As soon as I put the robes on for my first costume test, and I walked on to get approval from [executive producers] Jon [Favreau] and Dave [Filoni], and they handed me a lightsaber, I was like, 'Oh, I'm in this,'" Best said. "And boom, Kelleran Beq came alive."
Fan reaction to Kelleran's heroic live-action debut was extremely positive. On Monday, the official Star Wars Twitter account posted a video from Best where he thanked his supporters and expressed his love for the franchise.
"Star Wars fans on social media, thank you so much for everybody who ever rocked with me! I am more of a fan than I am a person in these movies, and I have always been and always will be," Best said. "I get just as excited when every new Star Wars thing drops. When people show up on stage at Celebration, and I'm more of a Star Wars news junkie than anything else, so I'm right there with you, thank you! And let's keep loving this thing."
I really hope we see more of Kelleran Beq. Last time we saw him, he was heading into lightspeed with Grogu, so he could still be out there somewhere in the galaxy. Or he could show up as part of the rebellion in Season 2 of Andor. Maybe he's friends with Ahsoka and pops up with Rosario Dawson in her series? Either way, the character was too well-received to be a one-off.
The Mandalorian is available on Disney+, with new episodes premiering every Wednesday.