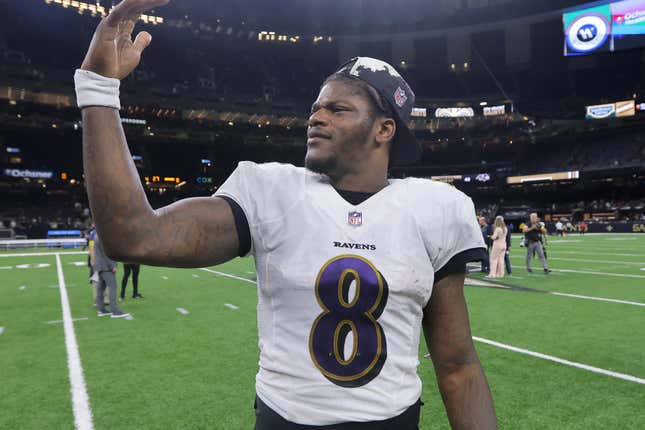 Throughout his career, Lamar Jackson has had people telling him that his choices are wrong. From wanting him to switch to running back, to telling him he can't pass, to pressuring him to take the first contract offer, to mocking him for not having an agent, it's been a string of ridiculous criticism. Luckily, Lamar didn't listen to any of these people and now he's laughing all the way to the bank. On Thursday, the Baltimore Ravens announced that Jackson has agreed to a five-year contract extension. Per NFL Network's Ian Rapoport, the deal is worth $260 million, with $185 million guaranteed. This tops Jalen Hurts' recent deal with the Philadelphia Eagles, making Lamar the highest paid player in the NFL.

"For the last few months, there has been a lot of he said, she said," the 2019 MVP said in a video on the Ravens Twitter page. "A lot of nail-biting. A lot of head-scratching going on. But for the next five years, it's a lot of 'flock' going on."
The fact that this deal got done on the first day of the 2023 NFL Draft is no coincidence. Teams like to get their important business settled before they make major decisions on the organization's future. However, it also sends a powerful message to all those college kids waiting for that life-changing phone call. Through all the nonsense and negativity, Lamar knew his worth, and didn't listen to the Ravens, other executives, or NFL analysts when they told him his value wasn't what he thought it was.
Those young players just starting their careers will have a lot of people telling them who they are, and what they're worth. If you have the tangible proof that you're a dynamic, game-changing talent, don't let the suits sitting in the owner's box tell you what your value is, or what's best for your career. At the end of the day, they're concerned with money, not you or your family. For two years, Lamar Jackson had dozens of people telling him he was wrong, but he bet on himself, stayed the course and now he's provided generational wealth for his family. That's real strength. With his deal, Lamar laid down the blueprint for how players can take the power from executives and put it in the hands of the people actually doing the work.