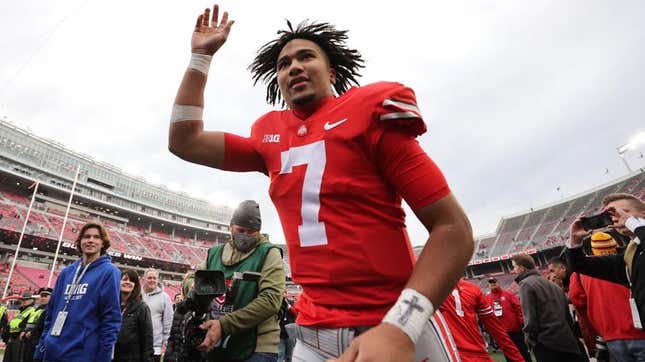 Updated 04/28/2023 at 6:00 a.m. ET:
C.J. Stroud is destined for greatness. He's been the best player on nearly every level that he's competed at. In high school, he was one of the most highly-touted players in the country. In college, he was a precision passer who put up huge numbers and only lost four games in his 25 starts as an Ohio State Buckeye.

Jonathan Beane on How Roc Nation Influenced the NFL
Now, he's a Houston Texan who was just selected with the No. 2 overall pick at the 2023 NFL Draft.
Despite his incredible ability on the field, the Heisman finalist shared with The Root that his new team will not just get a great player, but a multilayered person who is a man of high character and dope taste in music.
Music Stroud Listens to:
The California native partnered with Tidal to go live so fans could have an insight into Stroud's process and the playlist he'd be listening to leading up to the biggest moment in his football life, which included many of his west coast faves including Nipsey Hussle, Drakeo The Ruler and R3 DA Chilliman.
Stroud Believes Being Nice Counts:
When asked by The Root if there's one thing he did well in college that will translate to the NFL, his answer had nothing to do with his precision passing or his ability to read a defense, but more about how he gets along with teammates and being nice to the people around him.
"Something that my mom always taught me was to treat everyone with respect. Treat the janitor like the CEO," he said. "Be nice to people and make sure that I smile, shake hands, give hugs, and show love. I know it can go a long way to change someone's life. I'm very appreciative of my mom for putting that in me as a kid."
Stroud Cherishes those Who Came Before Him:
Although Stroud is known to "show love," his most important shows of affection are reserved for his family members. (His mother and sister made headlines after Stroud was picked by the Texans). Stroud knew Thursday would be a moment that changed the lives of his family, but he also went in recognizing that he was one of four Black QBs projected to go in the first round. Not only that, but he also understood he'd be part of the next generation of young Black talented gunslingers.
"It's amazing to see the trailblazing path that was given to us. Warren Moon, Randal Cunningham, Michael Vick. All these great quarterbacks paved the way for us to be where I am today," he said. "That's something I don't take for granted because I know it's special. I'm excited to join that fraternity and brotherhood."
If you'd like to connect with the Texans franchise QB, keep an eye out for his partnership on Lockerverse.
The NFL Draft aired Thursday, April 27 at 8 p.m. ET/5 p.m. PT on ABC, ESPN, and the NFL Network.