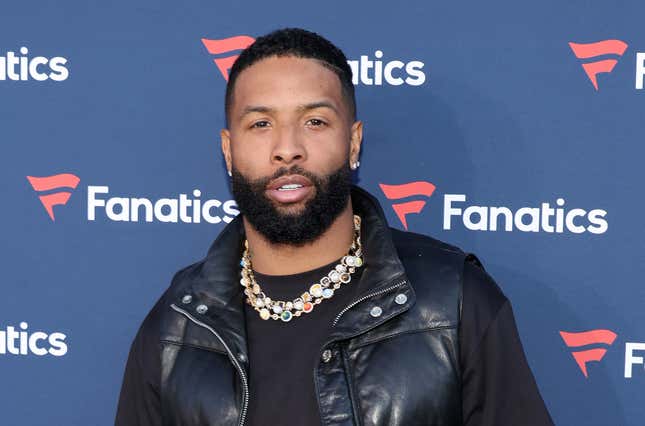 You know when you break up with someone and they do everything they can to try and get you back? That's where the Baltimore Ravens are at with superstar quarterback Lamar Jackson. They made a huge "Baby don't leave me!" move by signing Super Bowl winning wide receiver Odell Beckham Jr. According to ESPN's Adam Schefter, the deal is worth up to $18 million, with $15 million guaranteed.

Odell Beckham Jr. & How Misogyny Harms Black Men
If you're not a football fan, let me break down why this is such a big move by the Ravens. One of the biggest criticisms NFL analysts and fans have had for Baltimore is the lack of offensive help for Jackson. While other star QBs like Tua Tagovailoa, Patrick Mahomes and Josh Allen saw their teams sign top tier receivers, Lamar hasn't had big name, Pro Bowl hands to throw to. It's great that Baltimore understands that the 2019 MVP is a generational talent who they want to build around. But he also can't do everything all the time. There has to be other options for him, and the team has failed to provide those. Alongside the disagreements about money, this has to be another sticking point between Lamar and the Ravens. Signing OBJ is a signal from the team to their dynamic QB that they're ready to change and do better.
After the news of Beckham's signing broke, Jackson took to Instagram to post a screenshot of himself on a video call with the star receiver. Meanwhile, OBJ celebrated the news on Instagram by posting a photo of his adorable son Zydn wearing a Lamar Jackson No. 8 jersey.
For New York Jets fans wondering why Odell chose Lamar over the possibility of playing with Aaron Rodgers, the former LA Rams player told CBS Sports' Josina Anderson that he "was feeling more love from the Ravens." This signing comes as a surprise since Jackson recently tweeted that he requested a trade from the Ravens and basically said his goodbyes to the fanbase. Those same fans are now wondering if Beckham knows something they don't know and that's why he chose Baltimore. OBJ is at a point in his career when he wants to play for contenders, so partnering up with Lamar means he thinks the team has a real shot at doing something special this season. It should be really interesting to see what these two do on the field together.