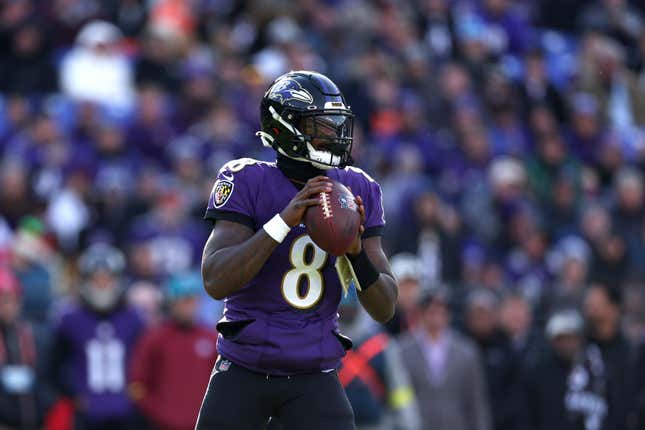 Someone get the Baltimore Ravens some ice cream and a Mary J. Blige playlist because things are about to get emotional. The ongoing contract drama between the Ravens and superstar quarterback Lamar Jackson has just reached nuclear levels. On Monday morning, the 2019 NFL MVP tweeted, "As of March 2nd I requested a trade from the Ravens organization." In case you're not a sports person, this is basically your partner going on social media and publicly announcing the break up while you guys are still in counseling.

"I want to first thank you all for all of the love and support you consistently show towards me. All of you are amazing and I appreciate y'all so much. I want you all to know not to believe everything you read about me," Jackson tweeted. "Let me personally answer your questions…in regards to my future plans. As of March 2nd I requested a trade from the Ravens organization for which the Ravens has not been interested in meeting my value."
Jackson added: "Any and everyone that's has met me or been around me know I love the game of football and my dream is to help a team win the super bowl. You all are great but I had to make a business decision that was best for my family and I. No matter how far I go or where my career takes me, I'll continue to be close to my fans of Baltimore Flock nation and the entire State of Maryland. You'll See me again."
This situation has gotten increasingly messy the longer negotiations have dragged on between Jackson and the Ravens. The QB wants a contract similar to what Deshaun Watson received from the Cleveland Browns and Baltimore doesn't want to agree to those terms, putting the two sides at odds. On March 7, the team put a non-exclusive franchise tag on Jackson, meaning he can sign an offer sheet with another team, then Baltimore can either match it or receive that team's next two first-round draft picks and let him go. If Lamar plays for the Ravens this season, he would make $32.416 million. After the tag was announced, no teams made offers for the dynamic QB, leading to concerns and accusations about collusion among owners. I don't know what's going on behind the scenes, but it does seem very weird that teams like the San Francisco 49ers, Indianapolis Colts, or Atlanta Falcons aren't making a play to get the amazing athlete on their rosters.
Meanwhile, at league meetings in Phoenix, Ravens head coach John Harbaugh found out about Lamar's tweet in real-time from reporters. The tweet dropped just as he was sitting down for a press conference, which doesn't seem like a coincidence. Harbaugh told NFL Network's Ian Rapoport, "I'm getting ready for Lamar. When Lamar gets back on this train, it's moving full speed." On whether he thinks Jackson will be his quarterback this season, the coach told Sports Illustrated's Albert Breer, "I do."
None of us know where these negotiations are going next, but it seems very clear that the talented quarterback is done with the Ravens, and no amount of begging will change his mind.