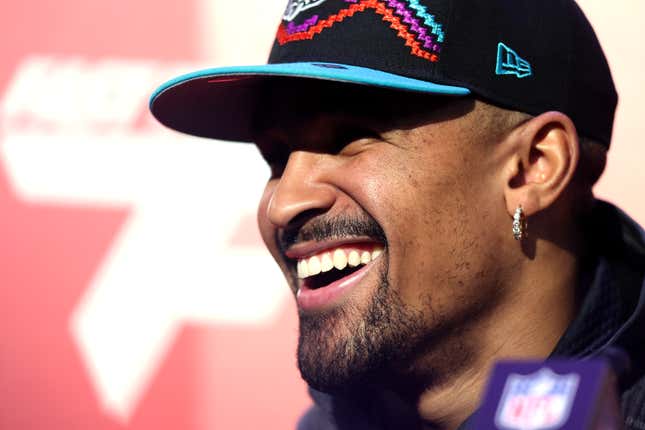 While the Baltimore Ravens, New York Jets, Green Bay Packers and Carolina Panthers continue to struggle with quarterback issues, at least one team has locked in its franchise QB with a massive, historic deal. According to ESPN's Adam Schefter, the Philadelphia Eagles' Jalen Hurts has signed a five-year extension worth $255 million, with $179.3 million guaranteed. The deal—which was officially announced by Philadelphia on Monday—also reportedly includes a no-trade clause. He now becomes the highest-paid player in NFL history. Of course, this will probably only be the case until the next huge quarterback deal. For the unfamiliar, the NFL QB market usually resets with every major contract.

The 2023 Super Bowl's Top 5 Black Moments: From Historic Firsts To Rihanna's Baby Bump
This is a huge moment for Hurts because Philadelphia hasn't always shown strong confidence in their talented young star. Last season, Hurts stepped up his game, leading the Eagles to Super Bowl LVII, where they ultimately lost 38–35 to the Kansas City Chiefs.
Making this deal even more historic is the fact that Hurts is represented by Nicole Lynn of Klutch Sports Group. After becoming the first Black woman to represent a starting QB in the Super Bowl, Lynn has now negotiated a deal to make him the highest-paid player in league history. As usual, Black women get shit done.
Jalen is very grateful for the Black women who have supported him throughout his life and career. As part of his May/June cover story in Essence, Hurts delivered a love letter to Black women, saying, "Dear Black women. Thank you. Thank you for being you. For showing up the way that you do. For being trailblazers, for being loving, for being resilient. We see you. I see you. And I appreciate you. Much love."
For Eagles fans who are worried that going to the Super Bowl and securing the bag will lead to complacency for the 24-year-old, it appears there's no need to worry.
"Every year I always leave the season very hungry," Hurts told Essence. "Win, lose, or draw—whether you finish at the top, whether you've broken records, or blazing trails, or whatever it is, I'm always hungry for more and I'm really starving to take the next step."
Now that Philly has settled its business, that leaves Baltimore and Lamar Jackson back on the clock.