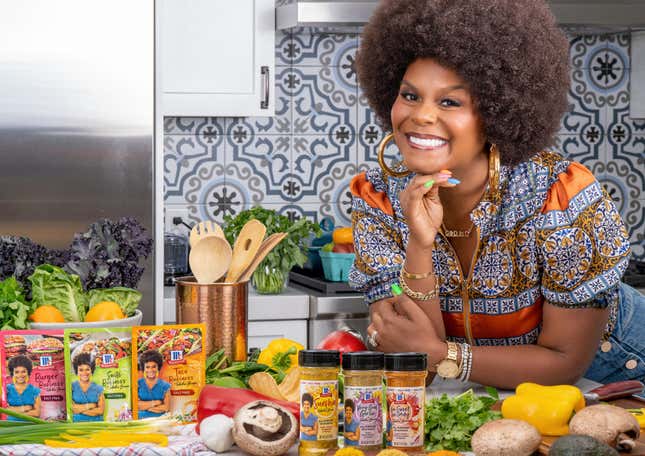 If the way to our hearts is through our stomachs, then vegan and lifestyle creator Tabitha Brown has figured out how to unite the world with love. The social media influencer is continuing her food takeover with the latest entries in the McCormick by Tabitha Brown collection. The Emmy-nominee is releasing five new spice blends including, Like Sweet Like Smoky All Purpose; Very Good Garlic All Purpose; Taco Business; Burger Business; and Sauté Business Seasonings. The Tab Time host spoke with The Root about how she developed her latest products.

What Does It Mean To Be 'Black Famous?' The #BlackMainstream Sounds Off
Tabitha previously worked with McCormick on her Sunshine Seasoning. She said she wanted to release that one first because "we were coming out of a dark time and I feel like people needed a little sunshine and they needed to feel like they had vacation in a bottle." Now, she's ready for a full line of spices with her unique touch. She was involved in every step of the development process, working alongside McCormick to make sure her signature Tabitha style was in every seasoning.
"I know what I like and I know what I cook with all the time. I know I'm always grabbing garlic. I know I'm always grabbing a little bit of cumin. I'm always grabbing paprika," Brown told The Root. "Instead of having all these different bottles…if I can just put it in one. How can I do that? And that's the way that I come up with what I want in it. It's a collaborative effort with McCormick and we get into the lab, we taste it together, we add a little bit more, take a little bit out. It's really like science, but it's so fun because it's food."
For Brown, it was essential that the ideas and flavor combinations be her own. She wasn't looking for something that just had her name on it. She wanted it to focus on her food voice and vision.
"I've been trying to develop my own seasonings for so long. Working with McCormick, who I love because they embrace me," she said. "They allow me to be completely me. We jump into developing products and our seasonings together. They really let me get into the lab, into the kitchen and we work it out together."
All of Brown's seasonings are salt-free, which means you can really layer the flavors properly without worrying about how your recipe is going to turn out.
"I try to cook the majority of my food salt-free because of all the ailments that are in our families. Knowing that we don't need a lot of salt and we can still have delicious food," Brown said. "It's what my Grandma told me and taught me very early in life. She said 'When you go to restaurants, where do you see the salt and pepper? It's always on the table. It didn't always belong in the kitchen or in your pockets.' So I always tell people, you layer your food with flavor. We can achieve delicious food and keep it healthy."
If you're a fan of Tabitha, you know how much she loves garlic. With that in mind, it's no surprise that she made sure the Very Good Garlic All Purpose Seasoning would take that flavor to "the next level."
"It's all of the flavors of garlic. It's just so layered with garlic you can't even get enough," she said. "From pastas to pizza, you can add it to your marinara sauce, you can add it to your creamy sauce. Or you can roast some veggies. The garlic lovers would definitely love this one."
Tabitha Brown has a successful clothing and lifestyle line at Target, a vegan hair care line, an Emmy-nominated children's show and her own line of seasonings. She really is using positivity as fuel to get stuff done.
These new McCormick by Tabitha Brown Seasonings will be available in stores this spring and summer.