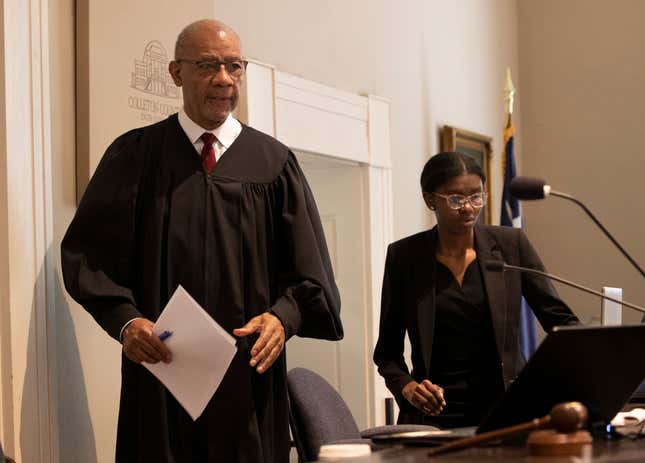 Moments before Alex Murdaugh was sentenced to spend the rest of his life in prison, South Carolina Judge Clifton Newman had a few choice words for him. Per CNN, Newman wasn't only disturbed by the crime itself but also by witnessing the once high-regarded attorney become a lying murderer.
Alex Murdaugh, 54, who was found guilty of fatally shooting his wife and son in June 2021, was described as a monster by Judge Newman, per NBC News. Following their death, prosecutors said his grief was really a pity ploy ahead of the financial crimes he was about to be exposed for. Since his indictment, he's maintained his innocence, but Judge Newman and the jury saw right through his fake tears.
After handling the trial in a seemingly impartial manner, Newman issued a piercing 20-minute address during Murdaugh's sentencing to emphasize the shame and guilt that will haunt him for the rest of his life behind bars.Read some of his remarks from CNN:

"Remind me of the expression you gave on the witness stand. Oh, what tangled web we weave. What did you mean by that?" [asked Newman].

"I meant when I lied, I continued to lie," Murdaugh replied.

"And the question is when will it end? When will it end? And it has ended already for the jury, because they've concluded that you continue to lie and lied throughout your testimony. And perhaps with all the throng of people here, they for the most part all believe or 80, 90& or 99% believe that you continue to lie now when your statement of denial to the court."

"We conducted a pretrial hearing in which you claim to have been someplace else at the time the crime was committed, and then after all of the witnesses placed you at the scene of the crime, at the last minutes or days you switched courses and admitted to being there. And then that necessitated more lies and continued to lie, and I say when will it end, it has already ended for many who have heard you and concluded that it will never end. But within your own soul, you have to deal with that. And I know you have to see Paul and Maggie during the nighttime when you're attempting to go to sleep. I'm sure they come and visit you, I'm sure."

Murdaugh replied: "All day and every night."

"I'm sure," Newman said. "And they will continue to do so. And reflect on the last time they looked you in the eyes, as you looked the jury in the eyes."
Whew, Newman took it there. In response to Murdaugh's outburst asserting his innocence once again, Newman said maybe the killer was the monster Murdaugh had become after abusing opioid pills. Newman's own son, Brian, had died of a cardiac issue just weeks before the trial had started, per AP News. To lose a child and go on to try someone for senselessly killing their own child may have influenced this lengthy, emotional response from the judge.
"For the murder of Paul Murdaugh, whom you probably loved so much, I sentence you to prison for murdering him for the rest of your natural life," Newman said while reading Murdaugh's sentence terms.