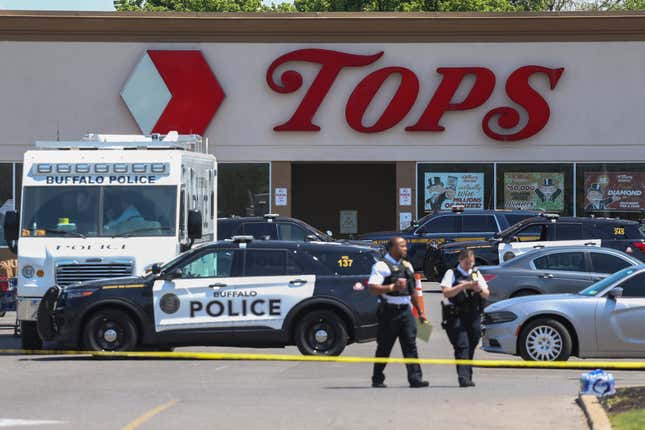 Updated February 15, 2023 at 12:03 p.m ET:
The Buffalo supermarket mass shooter was sentenced to life in prison without parole on February 15. Payton Gendron appeared in front of Judge Susan Eagan in Erie County Court for all 10 first degree murder charges as well as the domestic terrorism charge. The hearing was interrupted when Gendron was charged by a man in the audience, who wound up being immediately restrained.
Fighting "Lie-abetes": How To Spot And Combat Disinformation and Conspiracies In Politics | The 411: Part 2
Family members of the victims testified about losing their loved ones at the hands of Gendron. "You've been brainwashed. You don't even know Black people that much to hate them,"said Wayne Jones Sr., the only child of victim Celestine Chaney. "You learned this on the internet, and it was a big mistake. I hope you find it in your heart to apologize to these people, man. You did wrong for no reason," Jones said.
Gendron cried and then apologized in a short statement. The judge ruled on separate sentences of life without parole—one for each victim—to run simultaneously. She also refused to give Gendron youthful offender status, which might have given him an opportunity to rejoin society.
"There was nothing hasty or thoughtless about your conduct. There are no mitigating factors to be considered," Judge Susan Eagan explained.
Original Post:
White supremacist Payton Gendron is scheduled to be sentenced to life in prison Wednesday for killing 10 Black people at a Buffalo supermarket last year. He is set to appear in Erie County Court—the same court where he pleaded guilty in November to numerous charges, including domestic terrorism motivated by hate and murder.
On May 14, 2022, Gendron—who is now 19 years old—went to a Tops grocery store wearing bullet-resistant armor as well a helmet to seek out Black people to shoot. He also had a camera to livestream the attack. Gendron used a semiautomatic rifle to kill his victims, which he purchased legally.
The relatives of several victims are expected to talk during the hearing, allowing the judge to hear what the killer put their families through. Gendron shot 13 people in total, but only three of them survived.

Those who died in the shooting ranged in age from 32 to 86. Before he carried out the heinous crime, Gendron posted his manifesto online in which he said he hoped the attack would help white people hold on to power since they were losing it as America becomes more diverse.
He also specified that he selected that Tops supermarket, which was nearly a three-hour drive from where he lived (Conklin, New York) since it was located in a predominantly Black neighborhood.
Though Gendron will receive a sentence of life in prison, he is also facing separate federal charges that could result in the death penalty if the U.S. Justice Department decides to pursue it.