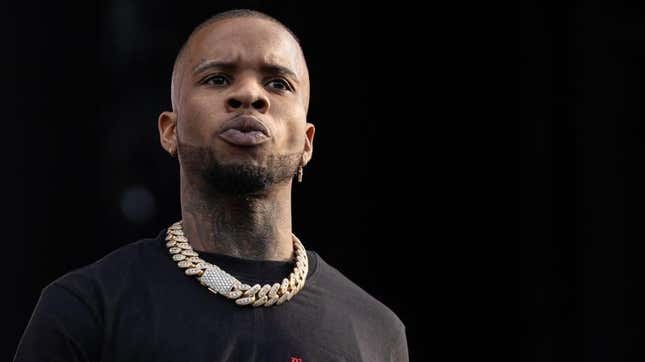 Remember Tory Lanez? You know, the Canadian rapper and R&B singer who was convicted on all charges relating to the shooting of Megan Thee Stallion? Well, still months after he was convicted, Lanez's legal team is doing all they can to get a new trial for the convicted singer.
Will The Real Black Journalists Please Stand Up
In January, in his first appearance in court following his conviction, Lanez notified a Los Angeles judge that he was changing attorneys, which included attorney David Kenner. Infamously, Kenner has represented several notable hip-hop figures including Suge Knight, 2pac and Snoop Dogg. The judge not only approved his lawyer change, but he also agreed to push back the singer's sentencing hearing from Jan. 27 to Feb. 28.
On Tuesday, a judge pushed back Lanez's sentencing hearing once again to give his legal team even more time as they plan to file a motion for a new trial in the Megan Thee Stallion shooting case.
According to Fox 11 Los Angeles, during a short hearing in Los Angeles court, Judge David Herriford delayed Lanez's sentencing to April 10 and revoked an order that banned Lanez from making any public comments on the case.
As a result, Lanez's legal team will most likely file a motion for a new trial during his next hearing on April 10.
Born Daystar Peterson, Lanez was convicted on Dec. 23, 2022, eight days after the trial in the Megan Thee Stallion 2020 shooting case began. He was convicted on all charges which included assault with a semiautomatic firearm, possession of a concealed, unregistered firearm and discharging a firearm with gross negligence.
If his motion for a new trial is not granted, Lanez will face a maximum sentence of 22 years and eight months in prison.