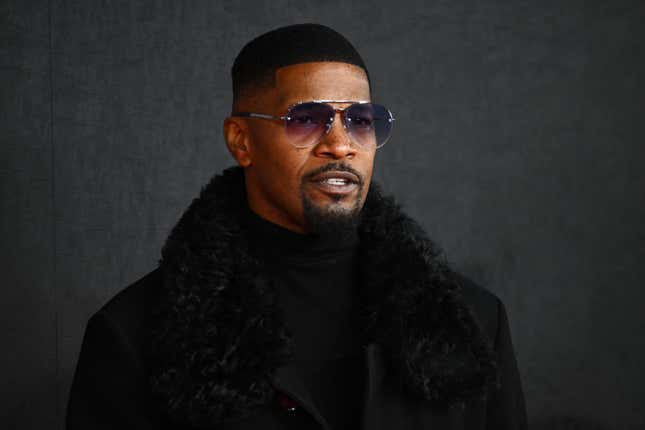 As the media storm around singer/actor Jamie Foxx's health issues continues, there are new reports about how he is handling his recovery. According to TMZ, its sources say the Oscar-winner is at a rehabilitation center in Chicago. The Ray star is reportedly being treated at the Shirley Ryan AbilityLab. While it's still unclear what caused Foxx's medical emergency, the center "specializes in stroke recovery, traumatic brain injury rehab, spinal cord injury rehab and cancer rehabilitation."

Chuck D's Fight The Power: How Hip Hop Changed The World Is Our TV Pick
The outlet noted that Jamie's daughters, Corinne and Anelise, along with Anelise's mother, Kristin Grannis, were seen in Chicago on Saturday and Sunday. It seemed like the family was doing well, as Anelise was seen with her guitar, while Kristin had Mother's Day flowers and a balloon. The Django Unchained actor is said to be "recovering well."
On April 12, while filming the upcoming movie Back in Action in Atlanta, Jamie was rushed to a hospital with a "medical complication." Since then, his family has kept things quiet, which is not a surprise since the Any Given Sunday actor has always been private about his personal life. Unfortunately, in the absence of regular updates, the internet has run wild with rumors and conspiracy theories. On Friday, Corinne posted a statement about her father's condition on Instagram, writing, "Update from family: Sad to see how the media runs wild. My Dad has been out of the hospital for weeks, recuperating. In fact, he was playing pickleball yesterday! Thanks for everyone's prayers and support! We have an exciting work announcement coming next week too!" That announcement was a new music-themed Fox game show, hosted by the father/daughter duo.
Hopefully, now that we've learned more about the They Cloned Tyrone star's recovery, everyone can relax and let his family handle this in peace. The crazy amount of rumors that have followed Jamie and his family through this situation is nuts. It's a stark reminder of why celebrities and public figures choose to keep these things so private.
It's ridiculous that this has to be said out loud, but just because you're a fan of Jamie Foxx's work, that doesn't entitle you to all his personal business. If you really want to show your support for him, back off and give his family some space.