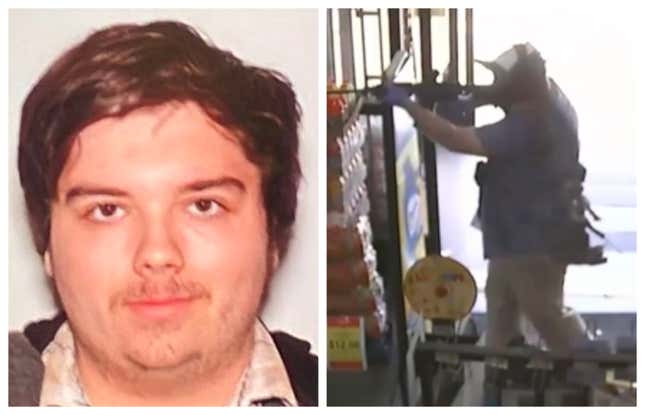 It didn't take a whole lot for us to figure out the 21-year-old white man who gunned down three Black people in Jacksonville had racist motives. His gun was covered in swatstikas and racial slurs. However, he also donned a badge representing Rhodesia: an inspiration for white supremacist domestic terrorists for quite some time now.

My Hip-Hop Story: Cedric The Entertainer On Jay-Z and His Indisputable Role In Shaping The Genre's Culture
Ryan Palmeter stormed into a Dollar General Saturday afternoon and fatally shot Angela Michelle Carr, Jerrald De'Shaun Gallion and Anolt Joseph "A.J." Laguerre Jr. Authorities say he first stalked the campus of HBCU Edward Waters University before arriving at the convenience store. Before the massacre, police say Palmeter told his father to scan his computer where kept several manifestos containing clear messages that he wanted to kill Black people because he hated them.
Palmeter's beliefs weren't excluded to his digital files but on the tactical vest he wore the day of the shooting, he donned a Rhodesia badge which carries its own sinister, racist history.
The Selous Scouts
What we know as Zimbabwe used to be recognized as Rhodesia before the Bush War in the 1970s. A special forces unit of the Rhodesian Army called the Selous Scouts had been deployed to attack the Black insurgent armies and assert the dominance of the minority, British colonizing powers, per The New York Times. The unit was responsible for the slaughter of Black residents by poisoning their food supply and executing anyone who supported the insurgents. They also plotted to overturn the Southern Rhodesia election of 1980 by killing Black nationalist leaders.
Upon the country being placed under the rule of the Black majority, the unit was disbanded and the white Scouts killed many of the Black members they recruited after moving their operations to South Africa.
The Impact and Legacy
An online movement began in 2017 paying homage to the Selous Scouts, according to The Times. What began as a string of archival Instagram posts of the Scouts turned into a small fandom. The Western Outlands Supply Company, listed as a hate group by the Southern Poverty Law Center, sold merchandise with racist, right-winged language that had been advertised as "inside jokes."
One buyers of Make-Rhodesia-Great-Again merch was none other than Dylann Roof, the white supremacist who was sentenced to death row after executing nine Black churchgoers in Charleston, South Carolina. Police recovered a manifesto Roof had written titled "The Last Rhodesian" and an image of him donning the Rhodesian flag on a shirt.
Even before Roof embarked on his rampage, other prominent white supremacists used Rhodesia as a way to promote their hatred. According to NBC News, Rhodesia was also a point of reference for pro-Jim Crow lawmakers in the South. KKK Grand Wizard David Duke referenced the war in 1983 writing, "in South Africa, in Zimbabwe (once proud Rhodesia), and right here at home it is as if we are terrorized by a fly, a miserable, tiny housefly," per the Anti-Defamation League.
There are still white folks who think Black people are a burden to their mere existence. That belief has turned into a breeding ground for violence.