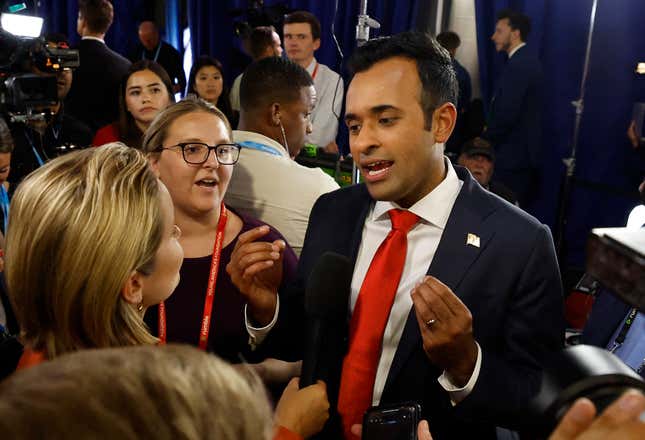 Updated 9/02/2023 at 8:00 a.m. ET  

Vivek Ramaswamy has the rare ability to inspire distaste across a broad political spectrum. After irritating his Republican primary opponents for hours on the debate stage, Ramaswamy turned his attention to making wildly anti-Black statements on the campaign trail.
White Supremacist Couple Attempted To Destroy Baltimore's Power Grid
Last week, the 38-year-old called Congresswoman Ayanna Pressley and Ibram X. Kendi "modern grand wizards of the modern KKK." In a bizarre twist, he also denied the existence of white supremacists, comparing them to "unicorns." Condemnation from the Congresswoman, the Congressional Black Caucus, and Kendi was swift and precise.
"In one of my childhood memories that is deeply embedded in that my own ancestors and living family members have been brutalized, lynched, raped by the Ku Klux Klan," said Pressley on MSNBC. "I recall when my family member had moved into a predominantly white cul-de-sac in the 80s when I was a child. And we had a cross burned in our lawn."
Despite the absurdity of Ramaswamy's rhetoric, Pressley says she's not letting him take any more of her mental energy. "So, for me, as deeply shameful and offensive and dangerous as his words are, he is not occupying any real estate in my mind," she said. "I remain squarely focused on the work of undoing the centuries of harm that has precisely been done to Black Americans and charting a path of true restorative justice and racial justice forward."
Kendi, author of How to be an Antiracist, didn't mince words either when asked about Ramaswamy's statements. "The modern Klan actually hates me, and you know who the modern Klan loves? The very candidate that Vivek praises every chance he gets, and that's Donald Trump," Kendi told MSNBC.
We're not sure where to begin here, but there are a few things worth noting. As Kendi correctly pointed out, the KKK still exists, and in 2016, former Ku Klux Klan leader David Duke endorsed Trump—Ramaswamy's favorite former POTUS, for President. That same year, the Crusader, a KKK newspaper, also endorsed him. Duke endorsed Trump again in 2020.
While it would be great to say that after a brief schooling, Ramaswamy learned his lesson, that's definitely not what happened. In an interview with CNN on Sunday, the Republican candidate argued that he only wanted to spark a discussion. He also doubled down on his white supremacist comments in the wake of a shooting carried out by a white supremacist who killed three Black people with an AR-15 decorated with Swastikas.
After his Sunday interview, the Congressional Black Caucus released a statement condemning his actions. "Vivek Ramaswamy's comments against Congresswoman Ayanna Pressley do not provoke 'open and honest discussion' on race in America, rather they reveal the depths of his own dishonesty," they wrote. "But his words are not merely the ramblings of a deeply unserious person – this is part of a dark and calculated attempt to obfuscate the truth about racism in America."