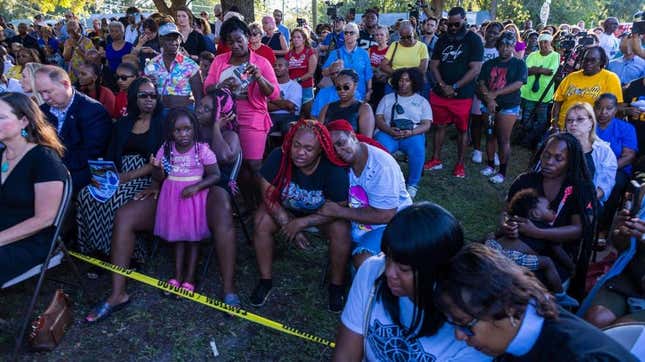 History has repeated itself in the worst possible way.
Over the weekend, a white man in Jacksonville, Fla. walked into a Dollar General store and killed three Black people, fatally shooting Angela Michelle Carr, 52, Anolt Joseph "AJ" Laguerre Jr., 19, and Jerrald Gallion, 29.
The shooter, 21-year-old Ryan Christopher Palmeter, used a swastika-emblazoned assault rifle and yelled racial slurs at the victims before fatally shooting them and then killed himself at the end of the assault.
After the mass shootings in Buffalo, N.Y., and Charleson, S.C., this incident is yet another example of the malice and hate certain individuals can have in their hearts against other people simply because of their skin tone.
The worst part, these suspects write out their intentions in terrifying manifestos where they describe and uphold these symbols of hatred against people who don't look like them. It's a scary reality that Black people live in.
Even though all of these mass shootings occurred at different times and places, the men responsible each shared disgusting emotions toward others and decided to act on it in a way that gruesomely affected the people and families involved.
Here is what each of them had in common.
Left a manifesto
Before the mass shooting, Palmeter told his father to look at his computer, where he found multiple manifestos that would explain why he committed the crimes he did.
Payton S. Gendron, the shooter who fatally shot 10 people at a Buffalo supermarket, wrote a manifest where he described himself as a white supremacist.
Dylan Roof, the white man responsible for killing nine Black people at a Charleston church in 2015, wrote a manifesto nearly 2,500 words long where he shared his thoughts about Black people, Jewish people, Hispanics, East Asians, and many others.
Motivated by racism
During the shooting, Palmeter hurled racial slurs, left behind a racist message, and drew swastikas on his firearm.
An investigation found that Gendron's motives in the Buffalo shooting were rooted in a racist ideology that the US should only belong to white people and that Black people needed to be eliminated.
In his manifesto, Roof expressed a deep hatred of all minorities, particularly Black people, and showed that he believed in racist stereotypes.
Belief in neo-Nazism
Palmeter literally drew swastikas on his firearm. That should tell you all you need to know.
Roof recognized himself as a neo-Nazi and was seen on websites posing with neo-Nazi symbols.
White nationalist
It hasn't been shared by the authorities what Palmeter said in his manifestos, but it has been alluded that he held beliefs in white nationalism.
In his manifesto, Gendron promoted white nationalism and the "Great Replacement" theory, which is a racist and discriminatory idea that believes that the more liberal side of the country plans to replace white people with other minorities in the country.
Roof was a strong white nationalist and believed that no matter his sentence, other nationalists would save him from prison.
Activity on the dark web
Gendron adopted many of his views after visiting multiple message boards on the internet. Most notably, The Daily Stormer, a racist message board where people could share their neo-Nazi and white supremacist views.
Roof owned a website where he shared photos of himself posing with neo-Nazi and white supremacy symbols. This is where he also shared his manifesto and the beliefs that led to him killing innocent black people at Charleston church
Targeted Black people
This one can be left unsaid, but in the cases of all three of these white men, they targeted a large group of innocent, non-violent, unarmed Black people only for the reason of causing them harm and pain.
Was left unharmed
In the case of Roof and Gendron, they were both left unharmed by authorities after they committed these heinous acts against Black people. In the case of Roof, police took him to Burger King and bought him a burger.
Palmeter never gave police a chance to take him into custody, fatally shooting himself after murdering three innocent Black people.