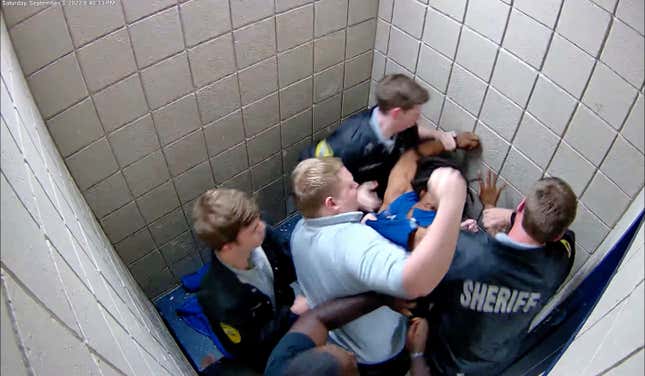 A Georgia grand jury indicted three former sheriff's officers in the brutal beating of a Black man held in a county jail, according to The Associated Press. The case became publicized after video footage of the incident was released, displaying the horrid altercation.

America's Got Talent Host, Terry Crews, Shows Full Gratitude For Writers On Strike
Camden County ex-deputy Ryan Biegel, former jail officers Braxton Massey and Mason Garrick are charged with misdemeanor counts of battery, simple battery and a felony count of violating their oath of office. The three were accused in the beating of Jarrett Hobbs in September 2022, who was seen on surveillance camera being pummeled with punches and kicks as a group of five officers dragged him out of his cell.
While the jury was deciding on charges for the cops, Hobbs had his own dropped. He was initially booked for violating probation on drug possession and a traffic violation and had added charges of assault and obstruction of justice following the incident. However, Brunswick Judicial Circuit District Attorney Keith Higgins dismissed them all, according to AP.
Now, three of the five officers involved in the incident have to report back to court to fight their own case.
Read a recap of the incident from The Daily Beast:
The trio, all white men, were terminated from the sheriff's office and arrested last November, two months after Hobbs' beating. Jailed following a traffic stop, Hobbs was attacked in an isolation cell by five people, who could be seen cornering him and repeatedly punching him in three videos of the incident, one of which included audio of his screams. Two other employees faced disciplinary action over the matter, the sheriff's office said in November.

In a statement on Wednesday, Hobbs' attorneys said that they wouldn't stop until "the pattern of violence at the Camden County Sheriff's Office" was stopped. "Lives are at stake," they added.