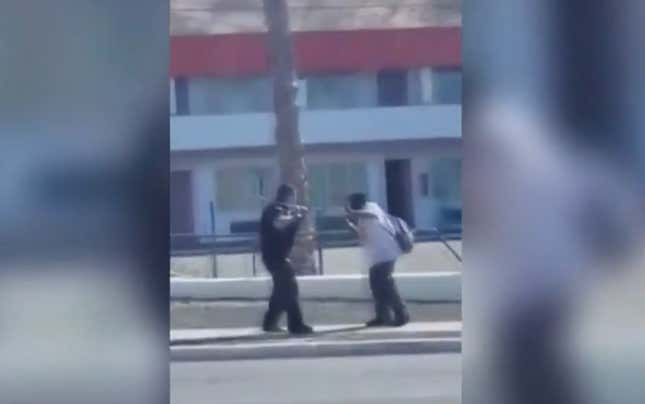 A Barstow police officer is under fire after residents witnessed him beat a Black man with a baton while trying to make an arrest, according to FOX 11 Los Angeles. Although the police department press release suggests the man was resisting arrest, a bystander's video of the incident tells an entirely different story.

Authorities say 43-year-old Gary Christian was wanted for an outstanding felony (no bail probation violation warrant) when the incident occurred while the officer was trying to place Christian under arrest. The department claimed in a press release that during the interaction, Christian refused to comply with the officer's commands and escalated things when he allegedly assaulted the officer.
"The officer immediately deployed his taser which was ineffective. Christian then physically assaulted the officer a second time causing the officer to deploy his baton, the officer struck Christian with his baton while attempting to arrest him," said the Barstow police department.
Melissa Navarrete told FOX 11 she was sitting at a restaurant with a friend when she witnessed the incident through the window. She said she immediately grabbed her phone and started recording. Per her account, the officer was not attacked.
Read more from FOX 11 LA:
She says she saw the officer swing his baton hitting Christian in the leg. After he went down, she says the officer swung three more times while Christian was on the ground.

But, in the moments before that she says, "We'd see in the middle of the street a cop with a baton holding it like a bat swinging at this guy. The guy had his hands up and he's moving backward, like he's not trying to fight the cop. He's not trying to resist anything... he's just moving and the cop is just swinging and swinging."

She added she and her friend never saw a taser being used.
Navarrete's account reflects the contents of the video, where Christian is seen backing away from the officer with his hands up and eventually being beaten onto the ground by the officer's baton.
This isn't an isolated incident where a bystander's video of a police interaction contradicts the department's account of what happened in their press release. In other cases, like the Tyre Nichols beating, barely any information about the incident is given from the police until the families expose some crucial details that trigger a public cry for justice.
The department responded to the media coverage about the video saying they have a copy of it and that there will be an investigation into whether the officer's use of force was within department policy, per FOX 11's report.