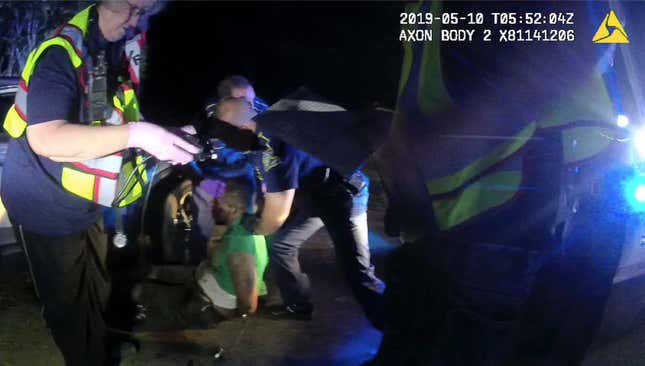 Five Louisiana law enforcement officers pleaded not guilty to their charges in connection to the fatal arrest of Ronald Greene, according to The Associated Press. Greene's mother was surrounded by the support of other families of police brutality victims.

America's Got Talent Host, Terry Crews, Shows Full Gratitude For Writers On Strike
Four Louisiana State Police troopers and one Union Parish sheriff's deputy were arraigned Tuesday, five months after the grand jury slammed them with charges including obstruction and malfeasance. Master Trooper Kory York is facing the most serious charges including negligent homicide, the report says. The five were caught on body camera beating, choking and dragging Greene and leaving him on the ground in shackles while failing to render aid. He died on the scene.
These officers may not even be facing the court if it wasn't for Greene's family filing a wrongful death lawsuit in 2020. The State Police didn't initially investigate the incident. Instead, Greene's family was told he died after crashing his car into a tree.
Read a breakdown of the charges from KNOE 8 News:
Lt. John Clary, the ranking officer on the scene almost four years ago, faces charges of malfeasance and obstruction of justice. An internal investigation revealed Clary mislabeled his body-camera footage. Once it was eventually found, it showed graphic parts of Greene's beating not captured on any other cameras at the scene.

York and Clary were suspended from State Police in January but are still entitled to receive any leave and compensatory pay. Trooper Dakota DeMoss and Capt. John Peters each face a count of obstruction of justice. Union Parish Sheriff's deputy Chris Harpin faces three counts of malfeasance in office. DeMoss was fired in 2021, and Peters has since retired.
According to York's attorney, plea bargaining for his client is off the table meaning they are willing to take it all the way to trial to prove the deputy's innocence. That deputy was heard in the footage asking Greene, "s—t hurts, doesn't it?" as he was being violently detained.
Greene's mother, Mona Hardin, was surrounded in support by the family's of other Black people who died while interacting with police. Present was Oscar Grant's family, who was shot by a transit officer in 2009, the family of Andrew Joseph, a teen who was killed on a interstate after an officer ejected him from a state fair in 2014 and the family of former NFL player Glen Foster Jr. who died in police custody two years ago.
"What we saw on those videos clearly without a doubt — everyone knows — was the murder of a Black man. You can't continue to sugarcoat the murder of a Black man while he was driving," she told reporters outside the courthouse.