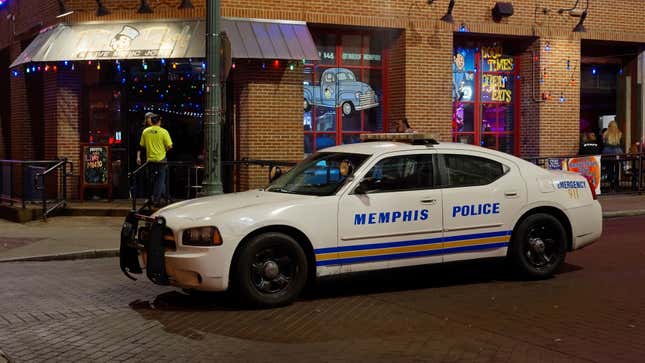 A Memphis resident previously announced a lawsuit following his violent run-in with the city's Scorpion unit - the same unit accused in the fatal beating of Tyre Nichols. The unit was disbanded upon the Nichols investigation and now Shelby County prosecutors are about to dig up every case they've handled, per NPR.

The county district attorney's office announced they would review closed and pending cases connected to the five former officers charged in the alleged murder. All the officers were a part of Memphis' neighborhood crime fighting unit before they were fired and they may lose their credibility to be in law enforcement again, the report says. Just three days before the Nichols beating, 22-year-old Monterrius Harris said he was pulled over by the same group of officers.
Harris said they didn't identify themselves, wore ski masks and had guns drawn forcing him out of his vehicle, per his affidavit.
"They were trying to pull me out of the car, but my car was locked. I thought someone was trying to carjack me. I didn't know they were officers," said Harris via NBC News. Harris had to be sent to the hospital for the injuries he sustained from the incident.
Harris is only one of an extensive number of cases these five former officers may have been involved in. According to a New York Times review of Scorpion's arrest affidavits, Black men are overwhelmingly represented as suspects. About 150 of those arrests included tactics equivalent to a stop-and-frisk or more violent than that.
Maybe that explains why each of the former officers have a record of misconduct.
Read more from a previous NPR report:
The Shelby County District Attorney's Office confirmed in an email to NPR that it will review closed and pending cases connected to Demetrius Haley, Desmond Mills Jr., Emmitt Martin III, Justin Smith and Tadarrius Bean, who have all been fired and charged with second-degree murder.

Four of the officers had prior violations at work, as NPR has reported. All but Bean had been reprimanded or suspended in recent years, either for failure to report the use of physical force, failure to report a domestic dispute or for damages sustained to their squad cruisers, according to Memphis police files.

The officers worked for a controversial special unit known as SCORPION, which the city disbanded in the wake of Nichols' death. It made 566 arrests between October 2021 and January 2022, Memphis Mayor Jim Strickland said last year.
More people like Harris have come forward about their brutal encounters with this unit. After the DA is through with Scorpion, we'll really see how they've been trying to "keep the neighborhood safe."