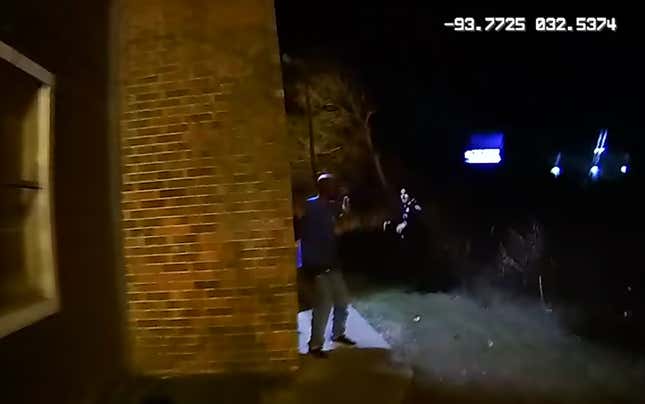 Updated as of 2/17/2023 at 10:00 a.m. ET
Bodycamera footage of the moments leading up to the shooting and killing of Alonzo Bagley by a Shreveport cop has been released by Louisiana State Police, per The Associated Press. After the shooting, Officer Alexander Tyler is heard anxiously begging Bagley to stay alive as he grew unconscious on the ground.
The 911 call reporting the disturbance was issued by Bagley's wife, who told the operator her husband was "loaded on something" and threatening her. When the police arrived, Bagley opened the door then turned around saying he had to put away his dog, per the bodycam footage. The officers then followed him to the bedroom and one drew their firearm once they saw him attempting to escape out the window.
When Bagley appears back in the frame as the chase commences, Tyler is seen leading in front and a shot fires from his firearm when he comes upon Bagley who appeared to be hiding in a breezeway.
"Oh God, you shot me!" Bagley says as he slumps on the ground.
"No, no, sir, sir. No, no, no!" Tyler repeats, evidently shaken, while standing above Bagley. "Come on dude, stay with me!" He nearly sounds hysterical in the background as the second officer is seen on video applying pressure to the wound and telling Bagley to breathe. The paramedics are called and Tyler is ordered by the second officer to go meet them in the front of the building.
G/O Media may get a commission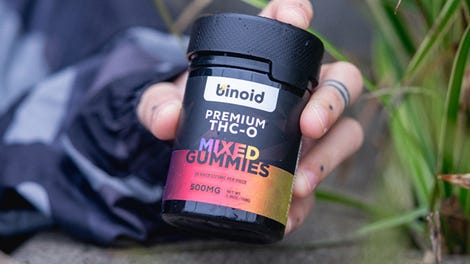 25% Off + Free Shipping
Binoid THC-O Gummies
As the second officer stays with Bagley, he also begins yelling, "Hey! Wake up! Respond! Hey!" as Bagley drifts off.
When's the last time we've seen a bodycam where an officer seems to show some sort of remorse for his actions? You know, in contrast to the Memphis police officers who laughed after beating Tyre Nichols senseless.
Tyler was arrested and charged with negligent homicide upon the investigation into the incident, per KTAL News.
Alonzo Bagley Previously Sued Shreveport PD for Assault
Prior to his death, Bagley had sued Shreveport police for nearly killing him in 2018, according to CNN.

According to the lawsuit he filed in relation to the incident, officers responded to another domestic dispute between Alonzo and his wife. The suit claimed his handcuffs were too tight and when he tried to maneuver himself into a more comfortable position, he was assaulted. One officer allegedly opened the door and began beating him on the head with his fists. As a result, he was treated for broken eye socket bones, contusions to the head and missing front teeth.
Now, the department is facing another lawsuit in Bagley's killing.
Read more from another AP News:
The family has hired a Louisiana attorney Ronald Haley. "Our office will walk through this process with the Bagley family, to ensure transparency and accountability," Haley's firm said in a statement posted Monday on Facebook.

Davis said police had numerous interviews to do and were still analyzing evidence from the scene. They will review recordings from officers' body cameras and in-car cameras. Those videos will eventually be released publicly. "We do not have a hard date, but I will tell you as soon as we can release it we will release it," Davis said.

"I'm asking the community to remain patient as we continue to conduct a very thorough investigation," [Louisiana State Police Col. Lamar] Davis said.
According to the Shreveport Police Department policy on the use of force, officers are only authorized to use lethal force to protect themselves from what is reasonably believed as a deadly threat or bodily injury. Warning shots are also prohibited.
So, how does an unarmed man fleeing the police appear to be a deadly threat? Bagley's family is asking the same questions in their $10 million lawsuit.