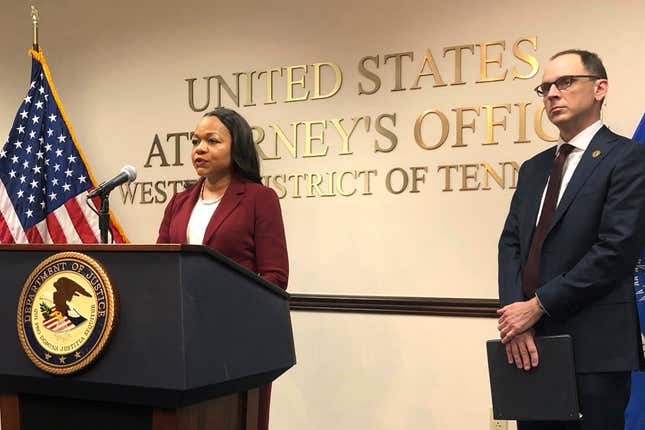 The Department of Justice announced a civil rights investigation into the practices of the City of Memphis and more importantly, their police department. The investigation comes seven months after the brutal beating of Tyre Nichols by officers from the MPD's SCORPION Unit back in January.

Black People Can Be Racist Too, Say Ibram X. Kendi and Nic Stone
The investigation is going to review the department's use of force, stops, searches, arrests and any other forms of policing for discriminatory practices. The department's use of specialized units, such as the SCORPION unit, will also be assessed by the office of Community Oriented Policing Services (COPS) which will produce a guideline for city leaders on how to make better use for them.
The SCORPION unit was disabled by Chief CJ Davis immediately following release of the footage from the night Nichols was nearly beaten to death, per WREG. Five officers were charged with second-degree murder in connection to Nichols' death and fired from the department. Several more officers were placed under internal review.
The DOJ's investigation is separate from the criminal investigation and civil rights investigation related to the lawsuit filed by attorney Benjamin Crump on behalf of Nichols' family.
Read more from The Justice Department's statement:
The investigation is being conducted pursuant to the Violent Crime Control and Law Enforcement Act of 1994, which prohibits state and local governments from engaging in a pattern or practice of conduct by law enforcement officers that deprives people of rights protected by the Constitution or federal law. If the Justice Department has reasonable cause to believe that a state or local government has engaged in a prohibited pattern or practice, the Department is authorized to bring a lawsuit seeking court-ordered changes to remedy the violations. In this investigation, the Department will assess law enforcement practices under the Fourth and Fourteenth Amendments to the U.S. Constitution, as well as under the Safe Streets Act of 1968 and Title VI of the Civil Rights Act of 1964.
Memphis is the latest city to have a magnifying glass placed on their policing - particularly, following the death of a citizen by the hands of the police. The DOJ launched a probe into the Minneapolis Police Department following the murder of George Floyd and uncovered an absurd pattern of discriminatory practices and abuse of excessive force.

Just days before those cops pulled up on Nichols, another man said he was violently ambushed by the MPD. It would be to no one's surprise if the DOJ uncovers similar policing patterns in Memphis.