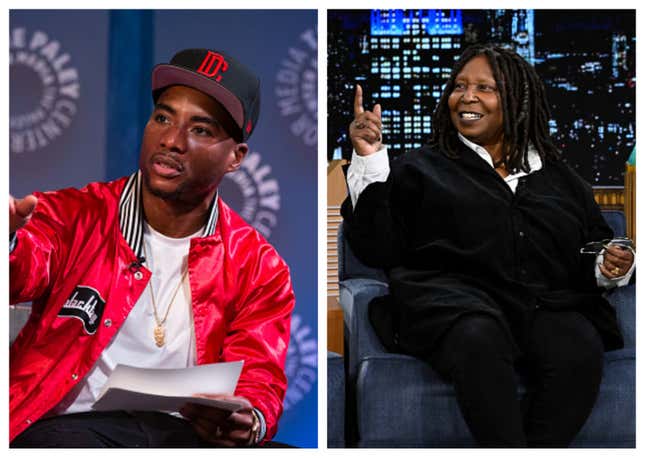 Barbie Bassett had social media in a frenzy after getting herself fired for saying, "fo'shizzle, my nizzle" on air. Though her remark was deemed offensive by the masses, particularly coming out the mouth of a white woman, Charlamagne Tha God and Whoopi Goldberg ran to her defense, per Deadline.

Chuck D's Fight The Power: How Hip Hop Changed The World Is Our TV Pick
Bassett's reference to the catchy Snoop Dogg phrase came about while she and her colleagues were discussing the rapper's new business, Snoop Cali Blanc, and joking about getting a Snoop-inspired tattoo. Then Bassett blurted out the artist's famous catchphrase, which includes slang for the n-word and ended her 20-year career, per AL.com.
Snoop hasn't responded to the incident yet, but Charlamagne Tha God went on The Breakfast Club to discuss whether her punishment was necessary.
"She might not even know what (N-word) means. Come on, we got to stop man. That's not a reason to fire that woman," he said.
Whoopi Goldberg also commented on it on The View, granting Bassett some grace for not having the dictionary of things white people shouldn't say sitting in front of her.
Read more from Deadline:
"There has to be a book of stuff that nobody could ever say, ever, ever, ever. Include everything," she said. "The things that change, 'You can say this, but you can't say that, but next week you might not be able to say this,' it's hard to keep up. It's hard to keep up. And if you're a person of a certain age, there's stuff we do, and we say."

Referring to Bassett's local news platform she added, "Just because we're on television, doesn't mean we know everything. We don't know everything you're not supposed to do. And if there is something someone says, if you're not going to give them the opportunity to explain why they said it, at least give them the grace of saying, 'You know what? I've just been informed that I should not of done that,' as opposed to, 'You're out.' Because saying 'You're out' means that you don't want to hear what people have to say…that could have helped somebody else not make that mistake."
This wasn't Bassett's first mistake on air. Reports say she had to make a formal apology just last year after referencing a Black grandmother as a "grandmammy." For all we know, this termination was already in her path.