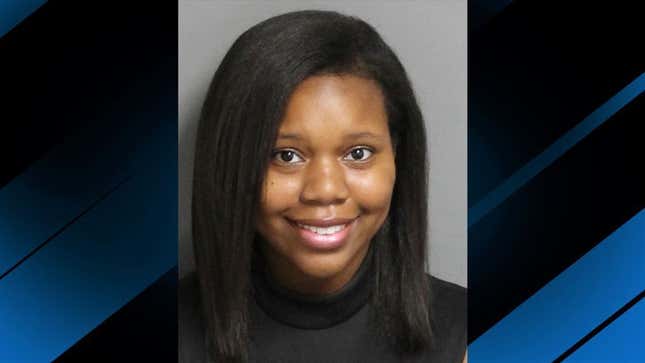 A Republican Alabama Senator released a plan to introduce a bill making abduction hoaxes like that of Carlethia "Carlee" Russell, a felony level crime. Russell recently turned herself in for lying about being kidnapped for 49 hours after reporting a missing toddler on the side of the highway.
Small Town Horror Story: Carlee Russell's Mysterious Disappearance
Russell, 24, "vanished" from the Hoover, Alabama area from July 13 to July 15 and soon, her story went national. Hoover police say she called 911 to report a missing child walking on the side of the highway and was abducted by a man minutes after pulling over. Volunteer search teams, every patrol car you could think of and thousands of social media sleuths banded together to locate Russell. However, two weeks after returning home, she admitted it was all a hoax. She was charged with false reporting of an incident and false reporting to law enforcement, both misdemeanors.
Alabama Attorney General Steve Marshall called on legislators to pass a law increasing the penalties for disappearing acts like these. So far, Sen. April Weaver is the first lawmaker to jump on board.
"This fictitious kidnapping caused fear and shock not only throughout the legislative district I represent but also throughout our state and nation," said Weaver in a statement. "Individuals who concoct and carry out sham kidnappings and lead our law enforcement officers on wild goose chases must be given severe penalties for their deceptive actions."
Read more from Alabama Today:
Weaver has already begun consultations with state and local prosecutors, law enforcement officials, and the Alabama Legislative Services Agency about this proposed legislation.

Sen. Weaver said that her bill will include strong prison sentences and mandatory restitution requirements for the full cost of resources expended by law enforcement agencies during a hoax abduction.

Marshall is concerned that the faked abduction could potentially adversely affect future victims and how the public responds to their crisis.
Carlee girl, you lucky because the law certainly varies from state to state. A felony was handed to an 11-year-old girl in Florida who is accused of lying to the police that she was abducted by a man with a gun as a prank, according to NBC News. She was charged with making a false police report concerning the use of a firearm in a violent manner and a misdemeanor for misuse of a 911 call.
Sherri Papini ended up getting sentenced to 18 months in prison on federal charges for her fake abduction back in 2016. In the same way Attorney General Marshall is concerned about future reported missing persons, prosecutors argued that Papini misled an entire community to believe Hispanic women were trolling the streets to traffic women, via CBS.
Even Hoover Police Department Chief Nick Derzis, who spearheaded the Russell case, agrees with the notion for tougher punishments in these hoaxes.
"'I was kidnaped. I was carjacked.' When you start saying those types of things, that ramps us up quite a bit. And to me... there should be consequences. And the consequences should be more severe in a situation like that," Derzis said to WVTM13.
Weaver said she will prefile the bill for the 2024 Alabama Regular Legislative Session which is scheduled for February 2024.