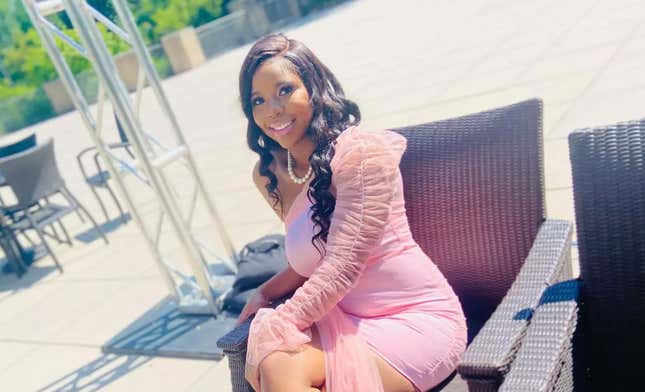 In the first public appearance since Carlee Russell's mysterious return, her parents told NBC News' TODAY about their relief in having their daughter home again. However, they also urged the public to stop speculating what happened to Carlee until the investigation closes.

Georgia Nurses Thought It Was Smart To Mock Patients on TikTok
Russell, 25, went missing July 13 after calling 911 to report a missing toddler walking on the side of Interstate 459. However, when the Hoover police arrived, they found Russell's car still running with the door open and some of her belongings including her purse and phone. Saturday evening, her parents called the police to report that she had returned home by foot. The lack of details about what happened in those 48 hours Russell was gone has sent social media into an absolute (and quite absurd) frenzy.
Suddenly, this Alabama woman we know barely anything about has been contorted into an attention seeking liar. Here are the crazy claims and what we know:
1.Faked Abduction
Y'all, people immediately jumped the gun to assume this entire story of her being abducted is made up and just a ploy for attention. Simply because of the lack of information, the public concluded Carlee fabricated a story of her abduction but with an unspecified motive.
First of all, Carlee Russell has not yet spoken publicly about the incident since her return home. Her mother, Talitha, told NBC News she believes her daughter was abducted. The Hoover Police Department has not specified if the case is being investigated as an abduction.
2.Mental Illness
The public speculates that Carlee's disappearance was a result of a mental health crisis, hallucinations or even psychotic paranoia.
The Russells have not suggested anything about her mental health besides her not being in a "good state" the night she returned home, per NBC. They also said she is mentally traumatized by what happened when she was gone.
3.There Was No Baby
Twitter users have gotten a kick out of suggesting Carlee never even saw a toddler to begin with, specifically because they can't see any figures in the traffic camera video. Their claims have been fueled by various news outlets who interviewed human trafficking experts that suggested children are not used as a ploy to kidnap people.
The police department saw no signs of a child upon arriving to the scene but what Carlee told 911 the night she vanished has not been disputed otherwise.
4.Drug Abuse
Social media users claimed that she dropped out of nursing school and started abusing drugs.
The police department, hospital and Russell's family have not confirmed any results from the testing done the night she was found and taken in for evaluation. Jefferson State Community College has not disclosed if she dropped out of their nursing program but referred to her as a student in a Facebook post about her disappearance.
5.The Gone Girl Theory
Some random Facebook user named Sharon posted screenshots of messages claiming Carlee tried to pull a "Gone Girl" and get back at her boyfriend for cheating on her with a stripper. They claim she checked into the Red Roof Inn for the two days she was gone. One TikTok user even pulled images what is allegedly her Instagram page showing a dispute with the alleged side-piece.
The police said Carlee's belongings including her purse and phone were left at the scene. It's unclear if her identification or credit cards were also left behind. Russell's boyfriend, Thomar Latrell Simmons, has not addressed these allegations but did address those claiming he had something to do with her disappearance.

People have either advocated for her privacy and silence or claimed they are entitled to her unpacked trauma because their tax dollars contributed to the search. At the end of the day, Carlee will speak out if or when she's ready. If the investigation finds she was snatched up... she'll have a hefty defamation suit for everyone who dragged her name before she could even speak up for herself.